The Tohiyusdv Cavalry is a black-owned small business based in rural Virginia. At its core, they grow and process cannabis for CBD products, but it's really much more than that. Through its Precision Craft Farmer Program, the company works with existing small minority-owned farms to introduce them to the cannabis market.
Via land leasing, profit-sharing, crop-sharing, facility design, community involvement and incubator-style support, Tohiyusdv Cavalry has built a network of farmers and a community around them that work together to gain access to the larger cannabis market.
Tohiyusdv, pronounced "toe-hee-yoos-da," means "calm" and comes from a Native American dialect in the region. James Arrington III, founder of the company, is both African American and Native American, so the name is a nod to his roots. While Arrington insists he is just one part of this larger organization, it's his passion for community, small business, social equity and cannabis that drives the company.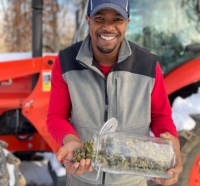 We sat down with James to learn more about the Tohiyusdv Cavalry, a bit of his background, how him and his community have found success and what they hope to achieve.
Different Sides of the Tracks
He grew up in Norfolk, Virginia alongside his two brothers and sister with a view of two different lifestyles. "We grew up in the hood of Huntersville, but I was raised in a white church, so it was interesting seeing both sides of the tracks and seeing the side that some of my friends couldn't see," says Arrington. The dichotomy of his upbringing gave him a unique perspective that he took to heart, eventually going to Old Dominion University for electrical engineering at the encouragement of a teacher.
Throughout his formative years, he didn't really get involved with cannabis – that came much later. In his college years though, he met his Delta Chi fraternity brother Ernest Toney, who would go on to become the founder of BIPOCann, a nonprofit that helps social equity entrepreneurs, minority business owners and professionals in the cannabis industry.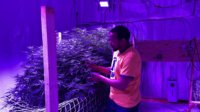 Working as an electrician to pay for tuition, Arrington graduated and launched what would become a successful career in electrical engineering. He worked as a subcontractor for the government in warzones, designing electrical systems with security and defense in mind, before starting his own company CalArr Consulting. "What really tied me to the industry was when I started using cannabis for my mental health and to understand who I am," says Arrington. A combination of his upbringing and his career led to his PTSD, which then led him to cannabis as a tool for his wellbeing and mental health.
More recently, he spoke with Ernest Toney, who said, "Look man, I've seen what you've done with your business over the years and you should consider getting into the cannabis industry." Arrington took that advice and ran with it. "So, the company I started is a mission-driven company based around healing, cannabis, understanding and helping people," says Arrington. "Tohiyusdv Cavalry is based around working with small farmers and minorities; We introduce them to the cannabis industry."
Here Comes the Cavalry
Right now, his company works with hemp and CBD products, but he says they are looking to expand into the THC market once Virginia legalizes and they already have some partners they're working with in other states to expand the program.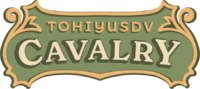 Tohiyusdv Cavalry has been around for about two years now and Arrington says the heartbeat of it is their craft farmer program. "These are existing minority farmers in a community, already growing crops like soybean or corn," says Arrington. "These are generational farms that have been passed down through family, some of them almost 100 years. They've always had to change with the times." In changing with the times, a lot of these small, rural farms are seeing the hemp market as a possible pivot, but hardly know where to begin. "They are starting to hear about farmers in their community growing hemp, but having trouble finding folks to buy their crop."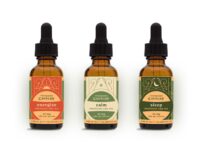 That's where the Cavalry comes in. "What you see in minority backgrounds is a lot of opportunities like this that are very scary to step into," says Arrington. "We're teaching people how to get into the industry, helping them through processing and getting on the market using new technology, and we do it at their pace." Some folks in their network just want to rent space on their farm out to a hemp grower, others want to dive right in and create CBD products. They operate a white label program for some and help set up turnkey facilities complete with extraction and processing for others. "We work with them to build a community around their farm," says Arrington. "We are just the engine behind these small farmers helping them get access to the larger market."
From the Ground Up
A good example of the work they put in is Everbreeze Acres. Based in Rustburg, Virginia, Everbreeze is a 434-acre farm and bakery that's been in the same family for generations. They had an interest in the cannabis market, so they approached Tohiyusdv Cavalry. James and his crew came in and built a 2,000-square-foot facility that is hydroponic, fully turnkey and automated. "We are teaching them the process and turning it over to them," says Arrington. "We are teaching them how to take care of the plants, grow the crop, harvest and process it, all while collecting data."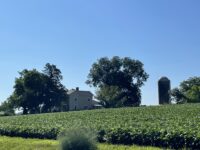 Before brainstorming how they want to market their products and how they want to be represented, the owners of the farm were still a little skeptical. Being in their 70s, they wanted to make a product that has some medicinal properties and could help people take care of themselves. So, James and his team put together a plan to launch a daily supplement, akin to a multivitamin.
Now Everbreeze Acres is using CBD as a megaphone to communicate their story. They were wary at first, but learned about it, grew to like it and now run a fruitful cannabis business. "We have their facility up and running and we're growing several strains that work best for them right now," says Arrington. "We're about a month away from another harvest there."
Building Community
Everbreeze Acres embodies the concept of the Tohiyusdv Cavalry. Helping small farmers establish themselves in the cannabis industry, building community around them and working to help their following and their mission.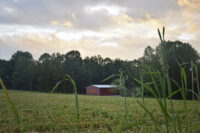 Small business is the keystone of many communities, the cannabis industry included. Economic empowerment is sort of a way of staving off big business too. Given the history of big tobacco in the Virginia area, many stakeholders are worried if they'll still have a seat at the table when Virginia legalizes adult use cannabis. "Looking at it in that sense, we are hoping that creating this group of diverse minds and backgrounds is building a table where everyone can sit at," says Arrington. "We want to provide that place for them and let them know that, yes, this is the room for you, this is the place for you. We're lending a helping hand and giving them a voice and a megaphone, sharing what they want to see in this industry."
When asked what advice James would give himself ten years ago, the mood was somber. "Ten years ago, my mentor, alumni Dave "BamBam" Hoffman died. I would say that was the thing that gave me that kick in the ass, that I wasn't doing everything I could do." He has the same advice for minorities and indigenous people getting into the industry now: "Don't be afraid to do it, the skills that you have you can put into the industry in some way. Your fit is out there. If it's the right way, it's never going to be easy. Push through it, keep going," he says.
Growing in Virginia
Tohiyusdv Cavalry is ready for the day that Virginia legalizes adult use cannabis, but James says he hopes they make room for the small farmers. "Small farmers are what makes Virginia, Virginia." They are in talks with some larger medical cannabis companies about creating similar programs for sourcing from craft growers. Through their strategic partners, a big part of their work right now is around partner and sponsor outreach, getting more businesses interested in sponsoring facilities and investing with small farmers. "Our hope is that we'll be able to keep expanding the program and involve more minority farmers in Virginia and that it will only keep growing," he says. "We're optimistic that we'll have three more farms signing on this year. And hopefully when Virginia legalizes adult use cannabis soon, we'll be ready to expand in that market and keep on growing."