As the cannabis market matures and the value chain becomes modernized, it's important to address product safety in a comprehensive way. In other areas of manufacturing, Hazard Analysis & Critical Control Points (HACCP) has been the standard for reducing hazards both for employees and for the products themselves. A Critical Control Point (CCP) is any spot from conception to consumption where a loss of control can potentially result in risk (Unnevehr, 1996). In the food realm, HACCP has been used to drive quality enhancements since the 1980s (Cichy, 1982).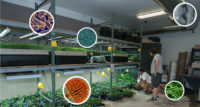 In a nutshell, HACCP seeks to help identify where a problem may enter a product or environment and how that problem may be addressed before it escalates. In cannabis, these hazards include many of the same problems that food products have: specifically molds, yeasts, and pathogenic bacteria (Listeria, E. coli, etc.). While the current industry standard is to test products at the end stage for these contaminants, this late-stage pass/fail regimen leads to huge lots of destroyed product and a risk for consumer distrust (Yamashiro, 2019). HACCP, therefore, should be applied at every stage of the production process.
Pathogen Environmental Monitoring (PEM) is a tool that can be used to identify CCPs in a cannabis cultivation or processing facility. The main goal of a PEM program is to find a contaminant before it reaches a surface that touches the product or the product itself. PEM is conducted using a pre-moistened swab or a sponge to collect a sample from the cannabis environment. The swab can then be sent to a lab for microbial testing. Keys to an effective PEM are:
1. Start with a broad stroke – When the FDA comes to a facility suspected of producing pathogen-laced food products, they conduct what is known as a Swab-a-thon. A Swab-a-thon is a top to bottom collection of samples, usually totaling 100 or more. Similarly, preemptively swabbing should be the first step in any PEM—swab everything to see what exists as a baseline.
2. Map your scene – identify on a map of your facility the following:
Cannabis contact surfaces (CCS) (belts, clippers, tables, etc)
Non-cannabis contact surfaces (Non-CCS) (floors, lighting, drains, etc)
Flow of air and people (where do air and people enter and where do they go?

Identifying the above zones will help deepen your understanding of where contaminants may come into contact with cannabis and how they may migrate from a Non-CCS to a CCS. 
3. Plan and execute:
Based on the results of mapping, and Swab-a-thon, identify where and when you will be collecting samples on a consistent and repeatable basis. Emphasis should be placed on areas that are deemed a risk based on 1) and 2). Samples should be collected at random in all zones to ensure comprehensive screening.
4. Remediate and modify:
If you get a positive result during PEM, don't panic—pathogens are ubiquitous.
Remediate any trouble spots with deep cleaning, remediation devices or other protocols.
Re-test areas that were positive for pathogens to ensure remediation is successful.
Revisit and modify the plan at least once a year and each time a new piece of equipment is added or production flow is otherwise changed.
The steps above are a good starting point for a grower or processor to begin a PEM. Remember that this is not a one-size-fits-all approach to safety; each facility has its own unique set of hazards and control points.
Comprehensive guides for PEM can be found at the links below, many of the concepts can be applied to cannabis production.
---
https://affifoodsafety.org/lcp/advanced-search/
http://www.centerforproducesafety.org/amass/documents/document/263/Listeria%20Guidance%20UFPA%202013.pdf
Cichy, R. (1982). HACCP as a quality assurance tool in a commissary food-service system. International Journal of Hospitality Management, 1(2), 103-106.
Unnevehr, L., & Jensen, H. (1996). HACCP as a Regulatory Innovation to Improve Food Safety in the Meat Industry. American Journal of Agricultural Economics, 78(3), 764-769.
Yamashiro, C, & Baca, Y. (2019).  Prevent high-value cannabis crop loss with innovative environmental monitoring tool.