Manufacturers of cannabis products need a program tailored to the cannabis industry that helps assure the safety of cannabis products with respect to known hazards such as pesticides, residual solvents, microbial impurities, heavy metals and mycotoxins. Deibel Cannabis Laboratories has developed a course that that will teach those manufacturing cannabis products how to manage known product safety hazards using a Hazard Analysis and Critical Control Point (HACCP) system.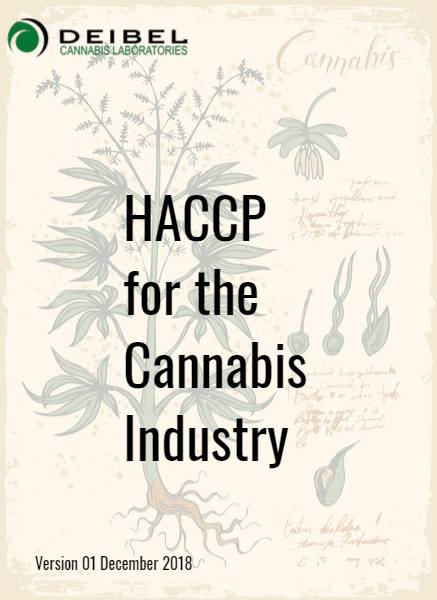 HACCP has a long history of use in the food industry based on preventing potential hazards from occurring rather than reacting to issues when they arise. This program was started in the US but is globally recognized, used by food companies around the world to help produce safe products for consumers. Deibel Cannabis Laboratories applies the same prevention based system of HACCP to the creation of safe and wholesome cannabis goods whether they be edible, medicinal or topical. They also explore ways cultivators can use HACCP principles in their operation.12
Deibel Labs was founded by Dr. Robert Deibel in the 1970's. Dr. Deibel is one of the original pioneers of HACCP, expanding the program from its original three HACCP principles to the seven principles we recognize today. Dr. Deibel developed the first "HACCP Short Course," teaching this prevention-based program to food industry leaders in the 1970s.
According to Charles Deibel, president of Deibel Labs, this is an important step for the cannabis space. "Deibel Labs is proud to continue in our historic role as leaders in HACCP training by providing the cannabis industry with a training course developed by Deibel Labs associates who are International HACCP Alliance accredited lead instructors with years of experience in crafting and implementing HACCP plans for the food industry."
They are launching a pilot two-day Cannabis HACCP Class to select clients at the end of January in Santa Cruz, CA. The full Cannabis HACCP course schedule for 2019 is currently in development. Accreditation by the HACCP Alliance is expected by early January, assuring that a standardized and internationally recognized training curriculum is provided by accredited instructors.
The course is forward-thinking, anticipating that sometime in the near future cannabis manufacturers will be required to control and document the safe production, handling and preparation of products according to state or even federal regulatory standards. Participants will be able to develop their own model HACCP program in an interactive group learning environment.
Attendees will:
Understand how Prerequisite Programs provide the foundation on which HACCP programs are built including GMPs, Sanitation and Pest Control Programs
Be able to identify where and how product safety problems can occur using a Hazard Analysis that considers Biological, Chemical and Physical Hazards
Gain the skills, knowledge, and tools necessary to develop effective Critical Controls, formulate corrective actions, conduct program verification and validation activities
Learn how to document activities and maintain records
Stay tuned for more information on when the 2019 course schedule is announced and how to register.