As we continue to witness and experience the medical cannabis industry grow and mature, many of us are wondering where the head-to-head clinical studies are, and why aren't there more clinical research studies taking place?
Cannabis products created with the intention for medicinal use often state that their formulations and products stack up against traditional pharmaceutical treatments. However, without a substantial number of clinical studies being performed, it's difficult to truthfully make such a claim. It's one thing to share testimonials from people who use particular products and report what their experiences were like. However, to go head-to-head in a controlled environment where factors such as underlying conditions, height, weight, medication, lifestyle and nutrition habits are taken into account to accurately compare the efficacy of a traditional pharmaceutical product versus a cannabis-derived product are two completely different things.
The Need for More Capital
Wouldn't you agree that if a company is having tremendous success with a particular product, that they'd reinvest capital into a true clinical study to have data to support their marketing efforts? Investing into proper studies would not only benefit a company working hard to earn market share, it would benefit those who are relying on a particular product to regain a quality life. As we've learned over the years from numerous scientists and researchers digging into the cannabis plant at a more granular level, there's much more to the medicinal benefits than meets the eye. Discovering new information about how cannabinoids such as CBG and CBN combined with CBD and certain terpenes can create specific effects has helped make a greater impact on the medical cannabis community. Bringing these powerful blends of anti-inflammatory, cannabis-derived compounds and other immune boosting nutraceuticals to head-to-head clinical studies could be a huge step forward towards further legitimizing the healing effects that cannabis has to offer.
Measuring Efficacy Goes Beyond COAs & Product Reviews
Determining the efficacy of medical cannabis products should be viewed in the same light as traditional pharmaceutical products. Traditional clinical studies are designed with an Institutional Review Board (IRB) approval, subject recruitment, electronic data capture as well as electronic patient reported outcomes. Some companies within the cannabis space have made attempts to conduct surveys with measuring efficacy in mind, but using outdated survey technology that hasn't been validated only leads to insufficient data collection.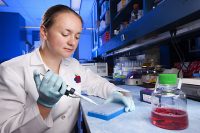 There is nothing wrong with adult-use cannabis. However, for the medical cannabis space to be taken more seriously, it is time for organizations to step up their efforts and take note of certain practices from traditional biotech organizations when it comes to clinical research and collecting data to correctly quantify efficacy of certain products. Well-thought-out studies designed with clinical endpoints and validated questionnaires is a strategic way for the industry to take big steps towards doing what is right for patients.
Patients Are Asking For More Research
After speaking with patients who are interested in pursuing a treatment that includes the responsible use of medicinal cannabis, the one thing they all have in common is the desire for more information that they can rely on to make better decisions. Is it time for patients to push the envelope and not purchase products from companies that are not willing to perform the clinical studies?  If companies suffered a loss in sales as a result, would they reconsider their stance on reinvesting capital into clinical trials with their products?
Equally as important as proper research is perpetual tele-monitoring. The value in perpetual tele-monitoring is the data. We can showcase miraculous, life-changing stories of how medical cannabis has helped people turn their lives around. However, when seeking greater buy-in from groups like the FDA, data is key. Qualitative data can go only go so far. It's the quantitative data that will help move the medical cannabis community forward. The ability to be able to review data on an ongoing basis would enable medical cannabis companies to evaluate how products are working based on the electronic data capture, along with questions that a company may develop to ascertain individualized product feedback.
Imagine having the ability to see patients' data based on real-time, daily, through something as convenient as a wearable device. Understanding test results and correspondence with doctors for patients would significantly improve.