As additional states around the country legalize cannabis – New Jersey, Arizona, South Dakota and Montana, to name a few– more and more medical and adult use dispensaries are popping up. Business owners are looking for ways to stand out from their competition. Enter dispensary displays, cost-effective hot commodities and a trending topic in 2022. Cannabis displays have become the vehicle to not only house merchandise but can also be a customized branding tool unique to the company's aesthetic and marketing messaging.
Before we delve into the dispensary display trends disrupting the cannabis industry, let's start at the very beginning: the basics. The basics include retail space, dispensary layout, cannabis inventory, complementary accessories and of course, budget. Decorating a unique space with a signature aesthetic can be as easy as mixing-and-matching the displays and ideas discussed in this article.
A Well-Lighted, Clean and Simple Space is In
Whether your dispensary is for medical or adult use, a clean design aesthetic is always a good choice. This never-fail approach to decorating conveys a crisp, modern, hygienic feel and a neutral palette like clear, white and black cannabis display cases support this look.
Store lighting plays heavily in dispensary décor, too. According to the lighting experts at Stanpro Lighting Systems, there are three basic types of lighting: ambient, task, and accent and all play a unique role. In short, ambient lighting lights up an entire room or space – outdoor too – to safely facilitate traffic. Task lighting, as the name suggests, is used for a given task such as reading and the like. Directional recessed fixtures, pendant and desk lamps all fall into this category. Light is directed to a focal point and shouldn't be too bright or harsh. Accent lighting directs attention to a point of interest. Think track lighting, undercabinet or recessed lighting – perfect for dispensaries. When mapping your lighting layout, consider pod holder placement. Place a multi-shelf locking cannabis cabinet under bright lights so customers can see and smell, if appropriate, the merchandise. Alternatively, if lighting is an issue, use a lighted display riser to showcase your pod assortment. A pop of color via custom color pod picks like these from shopPOPdisplays, placed inside a clear cannabis display pod holder on the lighted display riser grabs attention and can be easily switched out depending on the product promotion. It's versatile, cost-efficient and eye catching.
Make It Marketable
Cannabis displays come in all shapes, sizes, styles and colors. Organize your cannabis, CBD, vape and other merchandise like nitro tins to keep clutter at bay, but make it work for your brand as well. Double-duty dispensary displays like tube holders provide the functionality of neatly presenting products with the bonus of brand recognition through a customization option. If decorating your dispensary business and building your brand on a budget – and who isn't – customizing key pieces like locking displays and cabinets, may be the solution. Placing products in and on customized cannabis dispensary displays with your logo, brand and/or company color scheme brings instant recognition as well as consumer confidence that your dispensary is not a fly-by-night company. Strategic customization might be the savvy investment option in the long run.
Protecting Your Employees: Health and Otherwise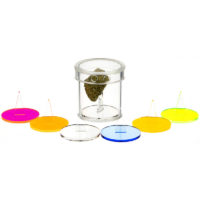 Security means different things to different people. Physical, financial – you name it – people want to feel safe and protection of others, oneself and properties is at the forefront. Like all business owners, dispensary entrepreneurs invest time, money and sweat equity to get their business up and running. According to cannabis software specialist TRYM, by the year 2025, the cannabis industry is estimated to reach $30 billion dollars. Ensuring the safety and security of staff and inventory investment is a top priority. Cameras, security personnel and alarm systems are all factors, plus practically shatter-resistant plexiglass counters and displays are the new must-have trend. Acrylic sheets don't end at the counter either. The health of staff members, especially during these times mean plexiglass sheets, clear acrylic barriers and sneezeguards are being implemented in dispensaries across the country. In compact or limited retail space these protective panels ensure social distancing and help ease customer anxiety.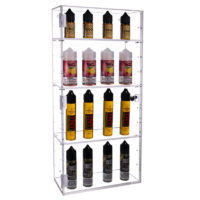 The cost of dispensary inventory is significant, protecting it doesn't have to be. Many states require cannabis, CBD and vape merchandise be stored in locking display cases and locking cabinets, behind counters, and more depending on the state. Sidestep specific regulations and instead opt for securing all cannabis and high-ticket items in both countertop and locking wall mount displays as well as wall pedestals, lighted pedestals (with acrylic cover or without) with the lock option. These display cases promote waist- and eye-level optimization without taking up valuable retail space.
Color Me Green This Year and Next
As mentioned, in 2022 clean is in, but so is green. In The Psychology of Design: The Color Green, Christi Wharton says, "Green evokes a feeling of abundance and is associated with refreshment and peace, rest and security." Therefore, it only makes sense to include green when decorating your dispensary. Add planters with greenery to odd corners, break up a white space with a verdant splash of color to bring attention to products. Consider custom green acrylic display risers with company name, brand or logo to literally elevate merchandise or use a LED cannabis display and a showcase is born!
With these current and classic display trends; a well-designed dispensary doesn't need tricks and a large budget to succeed. Quality merchandise, great customer service as well as classic in-stock and custom dispensary displays never go out of style.