Based on the recent string of cannabis thefts in Portland, Oregon, the spotlight is shining even brighter on the need for enhanced security measures at cannabis dispensaries throughout the country. According to the Oregon Liquor Control Commission, the Portland metro area alone has experienced more than 120 cannabis shop burglaries since March 2020, resulting in a reported total loss of more than $500,000 in cash and products.
Robbing a cannabis dispensary is as lucrative as robbing a bank. Cash is king in the shops until the Secure and Fair Enforcement (SAFE) Banking Act is passed to prohibit federal banking regulators from penalizing depository institutions that provide banking services to legitimate cannabis businesses. Until the Act is passed, it is widely known that all transactions must be done in cash—which makes cannabis dispensaries a prime target for thieves.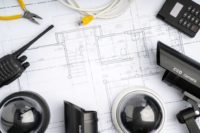 While many security protocols—such as product traceability systems and security cameras—are mandated by each individual state, dispensary owners should take measures to actively secure their product, protect their employees and preserve their businesses as theft increases.
One of the quickest and most cost-effective ways to fortify shop security is by implementing rolling security doors. After determining what level of security is needed, consider these four tips to help deter criminal activity and ensure the safety of both employees and products.
Tip 1 – Defend The Storefront
Designed to prevent against looting events and burglaries, heavy-duty rolling steel doors offer cannabis business owners robust security. They can be retrofitted into existing buildings, are exterior mounted and are ideal for storefront defense—including protecting glass windows, which can be expensive to replace. Unlike more common rolling grilles, thieves can't see merchandise when the rolling door is lowered. In addition to the door giving the building a secure look, blocking sight access is key to deterring criminals.
Heavy-duty steel doors must also be lift- and pry-resistant. Manufacturers put the doors through rigorous testing, and some security doors even meet Department of Defense forced entry standards, which can provide up to an hour of protection against violent attacks against the door to gain entry. Look for rolling security doors that can withstand heavy impact and resist pry attempts with common tools, as well as doors that are lift resistant. Some manufacturers offer doors with robust slide locks and rigid heavy-duty bottom bars, enabling the doors to withstand up to 4,500 lbs of lifting effort.
Tip 2 – Protect While Allowing Visibility and Airflow
If product visibility is desired, but more robust security is needed at the storefront—beyond a security measure such as impact glass—a heavy-duty security grille is an excellent choice. Security grilles are easy to custom order and don't require structural modifications to fit individual spaces. They are easily installed behind storefront glass, are compact enough to remain out of sight when not in use and require little maintenance.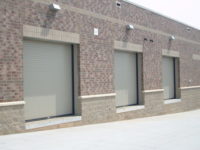 It's important to work with a manufacturer to select a rolling grille that provides dependable, increased security. Choose grille curtains with rods that are spaced closer together and have heavier links. Security grilles with these features are harder to lift and pry than standard rolling grilles.
Rolling security grilles are also an ideal solution to protect counters inside the dispensary. They can be easily concealed in small headspaces where there is limited ceiling room.
Tip 3 – Fortify A Store Within A Store
For cannabis dispensaries located within high-end retail shops, it is important to consider additional security measures to separate the dispensary from the rest of the store.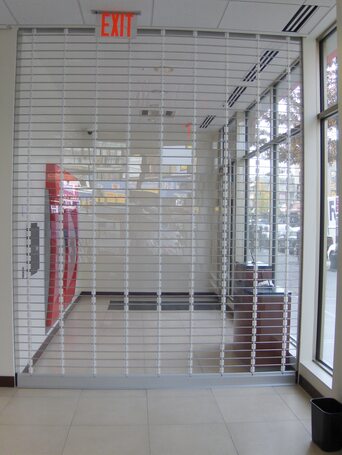 A store within a store may be subject to different hours of operation as states often dictate specific operating hours for cannabis dispensaries. Altered operating hours necessitate an easy way to secure only a small section of a larger store.
If aesthetics are of concern inside retail shops, a woven metal mesh grille will provide both beauty and security without imposing looks while securing cannabis products as customers browse throughout the store. Manufacturers offer a variety of patterns and even logo designs as a way to bring more creativity to a grille's aesthetics—making them rolling pieces of art.
Tip 4 – Secure Deliverables
Dispensary owners sometimes overlook the fact that thieves target deliveries. Deliveries that are made at the back of the store or in receiving areas may be the most at risk. It is of utmost importance to be aware of how deliveries are timed, who is present during them, and how the product is handed off.
Robust rolling service doors provide the best security for delivery entrances and are more secure than traditional rolling sectional doors. Made from slats of formed galvanized steel, aluminum or stainless steel, these rolling doors are completely customizable to meet existing building designs and are ideal for areas with limited overhead room.
Robust Protection
By closely evaluating the levels of security needed, the layout of the building and where deliveries take place, security updates and enhancements are easily implemented with the right rolling doors. Every door is made for a specific opening, so each one is custom-made for its application. Choose a knowledgeable manufacturer that will help determine which rolling closure suits the dispensary's needs.