Vintners have known for centuries that every step in the winemaking process—from cultivation and harvest techniques to fermentation, aging and bottling—has immense impact on the quality and value of the final product.
And that same level of scrutiny is now being applied to cannabis production.
As someone who has worked in the consumer-packaged goods (CPG) space for decades, I've been interested in finding out how post-harvest storage and packaging affect the quality and value of cannabis flower. After digging into the issue some more, storage conditions and humidity levels have indeed come into focus as major factors, beyond just the challenges of preventing mold.
Weighty Matters
I enlisted my research team at Boveda, which has studied moisture control in all manner of manufactured and natural CPG products, to look closer at what's happening with cannabis once it leaves the cultivation room. There's not a lot of research on cannabis storage—we checked—and so we explored this aspect further. We were frankly surprised by what a big effect evaporation has on quality and how this is playing out on the retail level.
We suspected moisture loss could affect the bottom line too, and so we did some number-crunching.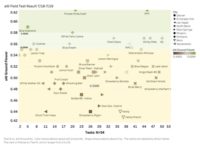 It's well understood that the weight of cannabis flower directly correlates with its profitability—the heavier the yield, the higher the market value. Here's what our analysis found: A mere 5% dip below the optimal relative humidity (RH) storage environment eliminates six pounds per every 1,000 pounds of cannabis flower. At $5 per gram wholesale, that works out to upwards of $13,500 in lost revenue—and that's with just a 5% drop in RH below the target range of 55-65% established by ASTM International, an independent industry standards organization.
We also purchased flower at retailers in multiple state markets and commissioned a lab to test the samples, which revealed that most strains sold today are well below the optimal RH range (55-65%). Regardless of fluctuating wholesale prices, when you do the math it's clear that tens of thousands of dollars in revenue are simply evaporating into thin air.
Why So Dry?
Historically, cultivators, processors and packagers have emphasized keeping flower below a particular humidity "ceiling" for a reason: Flower that's too moist is prone to hazardous mold and microbial growth, so it's understandable that many operators err on the side of being overly dry.
The misconception that cannabis flower can be "rehydrated" is another cause of dryness damage. But this method irrevocably damages the quality of the flower through trichome damage.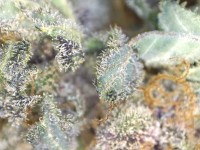 Those delicate plant structures that house the all-important cannabinoids and terpenes become brittle and fragile when stored in an overly dry environment, and are prone to breaking off from the flower; they cannot not be recovered even if the flower is later rehydrated.
When trichomes are compromised, terpenes responsible for the aroma, taste and scent of cannabis also can evaporate. Overly dried-out cannabis doesn't just lose weight and efficacy—it loses shelf appeal, which is particularly risky in today's market.
Today's consumers have an appreciation for how premium flower should look, smell and taste. Rehydration cannot put terpenes back in the flower, nor can it re-attach trichomes to the flower, which is why preservation of these elements is so key.
Cannabis Humidity Control
Cured cannabis flower can remain in storage potentially for months prior to sale or consumption. By the time it reaches the end consumer, much of the cannabis sold in regulated environments in the U.S. and Canada has suffered from dry damage.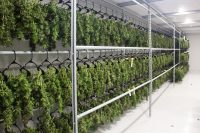 There are various humidity controls available for cannabis cultivators: desiccants that absorb water vapor; mechanical equipment that alters RH on a larger scale; or two-way humidity-control packets designed for storage containers.
In the CPG sector, with other moisture-sensitive products such as foods and electronics, we've seen that employing humidity controls will preserve quality, and cannabis flower is no different.
Saltwater-based humidity control solutions with two-way vapor-phase osmosis technology automatically add or remove water vapor as needed to maintain a constant, predetermined RH level and ensures a consistent level of moisture weight inside the cannabis flower.
Here's one more notable finding we discovered in our storage research: Third-party lab tests commissioned by Boveda showed cannabis stored with humidity control had terpene and cannabinoid levels that were 15% higher than cannabis stored without.
Cannabis stored within the optimal humidity range maximizes all the qualities that attract and retain customers. Similar to wine-making, when cannabis cultivators focus on quality control they need to look beyond the harvest.