Ideal cannabis profits come from high demand/high selling prices and low production costs. The spread between those two, or margin, can determine the life or death of your business. We want to share this series of articles so that your next investment can be highly successful and high margin out-of-the-box.
Regardless of the grow method (soil, coco, rockwool, hydro or aero), every plant performs best in its own ideal environmental conditions. Experienced growers gained success through hard work, and just that, experience. Many have tried more advanced grow technologies, but shied away due to early trial failures or the complexity of maintaining chemistry across a grow facility. The wonderful thing now is that precision sensors and software controls eliminate the risk to robust healthy plants and harvest success. Growers are now able to both manage production while performing research in line with their operations.
We have learned a great deal working with our grow partners over the last 6 years. Every grow facility and location are different due to local weather, business environment and scale. This series of articles and guide, authored by our expert, Christopher Wrenn, will include recommendations of the most successful approaches we have seen here in North America and all over the world.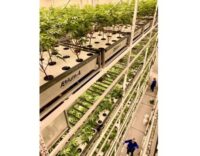 Building top-quality cultivation facilities is no simple task. Cultivators are also looking for new help as they shift from older soil or media approaches to more efficient grow methods. One powerful method is aeroponics, which is very good at growing any type of plant in air in a sterile environment, with labor, nutrient and water savings.
Where possible, we will share key vendors that support healthy grow operations and (since it is World Series Time), customer examples that are knocking it out of the park. In today's competitive business environment, it is critical to do what we can to increase profitability and survival in the face of steep headwinds. We want you to crush it and be "the last man standing."
So, let's get to it.
Climate: Environmental Control
We begin with a critical leg in your environment. The process of photosynthesis is more than just light, plant and moisture. We want to do more than just grow plants. We want to grow highly profitable plants. That means we have to accelerate photosynthesis so we are growing faster, bigger and more potent than our competitors.
The Vapor Pressure Deficit (VPD) is the amount of "drying power" available in the air surrounding your plants. This is a useful way to understand the amount of moisture your atmosphere can remove from your plants as they digest carbon dioxide and aspirate water and oxygen into the air around your plants. A higher vapor deficit is a good thing for growth; It is also a measurement of how much nutrient you can uptake into the plant roots and convert into size and potency in the canopy. We recommend that you have resources in your grow rooms to maintain your environment to within 5% of both your humidity and temperature targets for ideal results.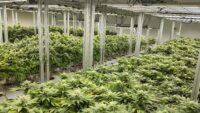 In our Top Quality Cultivation Facility white paper, we review environmental settings for temperature and humidity for mother, clone/veg and flower rooms for day and night light cycles from early cuttings through to end of harvest flush. Day temperatures can be up to 20% higher than night temperatures for example.
Cooling
Managing temperature may seem straight-forward but the heat generated by LED lights, HPS lights or the sun will vary across rooms, time exposure and with the distance of the light source from the plants. Measurement sensors should be distributed across rooms to monitor and trigger temperature resources.
Humidification/Dehumidification
This is a topic that can be underappreciated by cultivators. It is important to slowly transition humidity as you move plants from cuttings to clones, to veg and to flower. Beginning in a very humid stage to motivate root start, humidity will be stepped down from an opening near 90% down to an arid 50% in your end of flush flower rooms. We detail the transitions in 5% increments in the white paper.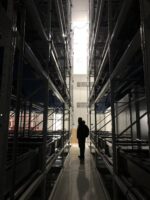 Relative Humidity (RH) and the related VPD are the key metrics to accelerating growth throughout the stages. Not sizing dehumidifiers correctly is one of the most common mistakes our grow partners learn about as they move to full production. In the first phase of turning cuttings from healthy mothers into rooted clones, hitting your target VPD to motivate root growth is the number one success factor. This will require the addition of humidity into your clone room. It is also typical to require raise the humidity of your flower rooms when you transition clone/veg plants from the high humidity clone/veg room into an initially dry flower room, otherwise the plants may go into shock as a result of the dramatic change.
As flowering begins, if humidity remains high, and the VPD is below target, the plants will not be moving nutrients and transpiring moisture. We have seen lowering the humidity from 70% in a flower room down to 50%, results in a yield increase from 50 grams to 90 grams of dry trim bud per plant, so a smooth transition can both accelerate growth and have a big impact on your margins and profitability.
Plants in aeroponics can truly have explosive growth. This means that they will also transpire moisture at an accelerated rate. Fast automated growth in aeroponics means increased humidity output. Sizing these critical systems for humidification/dehumidification are a critical part of the design process.
Airflow
Fans combined with your cooling/heating/humidity/dehu systems need to mix the air in a room to break the boundary layer at the leaf surface for transpiration. As we covered, VPD is critical to growth success. A dry surface motivates the plants to transpire moisture. We recommend flow rates across the canopy in a 0.5-1.5 meter/second rate to align to your genetics and where you are in the flowering process.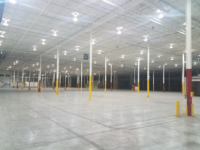 Airflow and flowering means rich beautiful aromas are generated. Every facility has to consider odor control. If you are in a populated area, you will have ordinances and neighbors to satisfy. The best way to do this is to minimize the amount of air that exits a facility. This is also the cheapest approach.
Sterile HEPA filters and scrubbing systems clean air of pathogens and odor but they also need to circulate and "condition" air to the correct temperature and humidity levels before it can be recirculated into a room. Oftentimes, this is a good place to also recapture humidity and reinject it into your pure water cleaning systems.
Key vendors to talk to about sizing air treatment systems are SURNA, Quest, Desert Aire and AGS. Each of these vendors have specialties and tend to be superior partners in different regions of the world. We would be happy to introduce you to excellent support resources for air management systems.
To download the complete guide and get to the beef quickly, please request the complete white paper Top Quality Cultivation Facilities here.
Click here to see Part 2 where we discuss water quality and management.