A top product trend this year is the rise of solventless cannabis products, according to recent statistics from cannabis market analyst firm BDSA. In fact, from June 2021 to June 2022, BDSA research also showed that the category grew an average of 132% each month.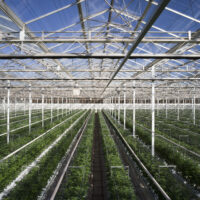 Nearly all cannabis products start with cannabis concentrates, which are made with a solvent that contains the desirable compounds from cannabis. Solventless concentrates however are made from the cannabis flower without the use of any chemicals and are becoming popular among businesses and consumers. This broad category of cannabis products includes everything from hash to live rosin.
Mitch Lindback, Lab Director at Copperstate Farms, has been growing and extracting cannabis for 15 years and has over a decade of experience working with cannabis derivatives. "Solventless is the truest expression of the cannabis plant," he says.
Copperstate Farms is one of the largest greenhouse cannabis producers in North America and home to 1.7 million square feet of canopy and 40 acres under glass. Here is an inside look into the company's solventless creation process:
The Harvest
One of the most important growth factors in cannabis is light, so cannabis grown in full-spectrum light often brings the best flower to harvest. In the weeks before harvesting, the lab conducts a test wash on cannabis plants before hand-selecting which will be used in rosin. Plants are selected based on appearance, aroma and test wash results. On harvest day, all flowers are lightly hand-trimmed and frozen within two hours of harvest.
The Wash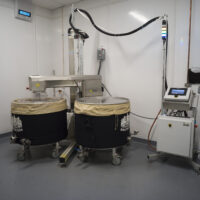 Using only chilled RO water and minimal ice, our cannabis extraction experts gently break the trichome heads off the fresh-frozen cannabis using a stainless-steel wash system, by gently agitating the flower. Then they collect the 73μ-159μ trichome heads while pushing the immature trichome heads and stalks to pass through collection bags with a cold spray wash.
The Press
After carefully freeze drying, sifting and packing the hash into double-wrapped mesh rosin bags, Copperstate Farms uses rosin presses to gently express the nectar from the trichome heads using a little heat and a lot of pressure.
The Cure
All live rosin goes through a minimum 7-day cure. "We have found through extensive analytical testing that curing rosin for a minimum of seven days increased its terpene content by over 30 percent," Lindback says.
The extensive process to create solventless cannabis products is time and energy intensive, but leads to quality offerings, like full melt hash and live rosin. In fact, the solventless category is "primed for premiumization and growth in legal cannabis markets," according to BDSA retail sales analytics. This is especially true in the dabbable concentrate product category and predicted in the vaping concentrate category as well.
With popular annual holidays like 7/10 (the cannabis community's holiday for celebrating oil products, dabs and concentrates) gaining traction, solventless products are predicted to grow in market share and are worth cannabis companies looking into producing as demand rises among consumers who are always looking for innovative products that feature solventless concentrate.
To learn more about Copperstate Farms, visit www.copperstatefarms.com.