According to a press release yesterday, Illumitex, an industry-leading LED lighting manufacturer and digital horticulture company, announced the release of their newest lighting technology, the Illumitex HarvestEdge Extra Output (XO) LED Horticultural Fixture. This light fixture is the latest advancement of their LED technology, which they claim can help growers maximize their yield considerably.
The fixture comes with a 0-10 dimming capability and proven Wet Rating, meaning it is designed and proven to operate normally in a high-humidity environment. Debuted during the NCIA Seed to Sale Show in Boston, MA on February 12th, the company says the XO LED is the first true 1:1 replacement for high pressure sodium (HPS) lights, consuming about 36% less energy.
We caught up with a few members of the Illumitex team at the conference to find out more about the technology and its applications. According to John Spencer, CCO/EVP of Sales & Marketing at Illumitex, their technology has been used by hundreds of grow operations over the past 8 years. "This light was designed with a higher light output for greenhouses, particularly in Canada where the mounting heights are upwards of 7 meters," says Spencer. "We are minimizing shadowing in the greenhouse, giving growers the opportunity to supplement their sunlight appropriately." He says they are specifically designed with commercial scale use in mind.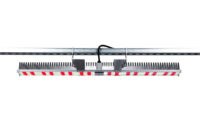 According to Yan Ren-Butcher, Ph.D., Director of Horticulture Science at Illumitex, the light has the highest efficacy on the market right now. "We designed the specific wavelengths and best red, blue and green ratios optimal for photosynthesis," says Ren-Butcher. "This product launch is based on years and years of experience in horticultural applications, our knowledge in the field of cannabis cultivation and the latest in LED technology, with the highest efficacy in the industry to date."