Between 2020 and 2021, cannabis vape cartridges saw 25% year-over-year growth and all-in-one vapes grew a whopping 64% as a category during the same time period. Two years later, the vape space shows no signs of slowing down. There are more strain and extraction style options than ever, not to mention advances in consumption device technology.
That huge growth and diversification means consumers have a lot of choices and decisions to make. Cutting through that noise takes a little know-how, however. For a shopper who's hesitant or overwhelmed when comparing multiple vape options, brands and budtenders can start with some informative, friendly education on how terpenes deserve their consideration.
Why are terpene profiles so important? Imagine going into a wine store and only getting a recommendation for red or white at different price points. You might end up with something delicious that fits your budget, but you're missing out on deeper nuances that could enrich the experience. Consumers don't know what they don't know. But brands can do better.
Terpenes and the Entourage Effect for Vape Products
Instead of the indica-sativa-hybrid trichotomy, focus on the kind of experience you want to have. Understanding terpenes can go a long way to helping consumers find the strains that produce their favorite flavors, scents and sensations. Also key is understanding how terpenes work together in different strains—a phenomenon known as the entourage effect.

The entourage effect is often simplified to a collaboration between major and minor cannabinoids like CBD, CBG, CBN and THCV. But a true entourage effect isn't just the combination of different cannabinoids. It's the combination of terpenes, cannabinoids, flavonoids and other chemicals such as esters.
Why does this matter? The best cannabis represents the best of each of these elements, not simply terpenes and cannabinoids. As a result, the best cannabis vapes are the ones that can preserve all of these elements and produce an entourage effect.
This is where it's worth pointing out the pros and cons of low-end cannabis vape products. Cheaper strain profiles typically feature fewer ingredients, including the terpenes, flavonoids and esters that contribute to a distinctive entourage effect. It's not a matter of upselling: Sure, the price point might be attractive, but one-size-fits-all weed isn't the experience most consumers are ultimately looking for.
How Extraction Methods Impact Cannabinoids, Terpenes and Other Chemical Compounds
The loss of crucial members of a cannabis cultivar's entourage is one reason extraction methods make such a big difference. It can be hard for many consumers to cut through the jargon of resin vs. rosin, CO2 vs. butane, ice vs. heat and so forth. But one simple way to break it down is this: botanical, aka distillate, terpene profiles typically have 30-60 ingredients. Meanwhile, cannabis-derived terpene profiles will have over 100.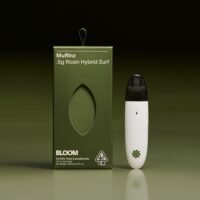 On the high end of that spectrum is rosin. Rosin products typically will have the largest number and range of flavor components. That's one reason this category is so popular with cannabis connoisseurs who are particularly dialed into the flavors and effects of the products they consume, vape carts included.
Why Hardware Matters
There are two primary types of vape consumption hardware—510 thread batteries combined with various brands of vape carts, or all-in-one vape devices that come pre-loaded with proprietary concentrates. 510 thread systems were carried over from the nicotine vape space, and quickly became the industry standard because they allow consumers to try vape carts from many different brands with the same rechargeable battery. There is a caveat: Temperature variance can affect the consumer's experience for the worse, particularly with sensitive terpene boiling points.
All-in-one devices have been gaining popularity because they're so easy to use. They come pre-loaded with concentrates and don't require any charging cables or changing device settings. All-in-ones are typically pre-set to a tight temperature range well-suited to their unique concentrate formula—all a consumer has to do is put the device to their lips and pull.
A quality piece of vape hardware won't produce a burnt flavor or irritate the nose. The flavor will come through cleanly and the draw should be smooth and consistent. Indeed, the latter is another sign of quality vape hardware consumers should know to look for—the resistance of that pull can vary widely between brands. The concentrate should draw easily from the chamber. If it feels like sucking a hefty milkshake through a straw, both the hardware and the concentrates inside are probably not the highest quality.
Whichever terpene profile, strain, extraction technique or device category is on a customer's mind, it's critical for brands and budtenders to help guide consumers to their individual best-fit cannabis vape experience.