Sleep health is a large and growing global market. According to Statista, the global market value of the sleep market was $432B in 2019 with an expected CAGR of 6.3% from 2019 to 2024. Supplements are a growing category of popular sleep health products with common ingredients including melatonin, valerian root, and more recently cannabinoids such as CBD and CBN.
RealSleep is a cannabinoid formulation company developing personalized products to improve sleep outcomes. RealSleep's product strategy has been developed by top scientists and sleep experts, and clinically tested to aid individuals seeking to fall asleep faster, sleep deeper and cut down on sleep disturbances. Their studies have shown that 90% of people taking RealSleep have reported experiencing better sleep immediately
We spoke with Michael Kamins, co-founder and partner of OpenNest Labs and RealSleep, about RealSleep's innovation in personalized formulations for better sleep. Kamins founded RealSleep as an incubated company under OpenNest Labs, where he is also a founding partner. Michael is the Chief Community Officer of the Wholistic Research and Education Foundation, and just led the world's largest study on CBD and general health with Wholistic and Radicle Science, where he is also an advisor. Prior to RealSleep, Michael worked in tech where he was an early employee at Musical.ly (now TikTok) building brand partnerships.
Aaron Green: How did you get involved in the cannabis industry?
Michael Kamins: I got into the industry professionally about two and a half years ago, but my relationship with the plant goes back to high school. Prior to jumping into this space, I was working primarily in digital media. I was an early employee at Musical.ly, (eventually rebranded as TikTok), leading global music partnerships and growth. I helped grow that business by leveraging the social capital of music artists and celebrities and doing partnerships with record labels. At the end of 2018, I really saw the opportunity in the cannabis space. One of my best friends in Los Angeles, Dr. Jeff Chen, someone I did my MBA with at UCLA, became the founder and executive director of cannabis research at UCLA Medical. Seeing all the clinical research that he was doing and the objective health outcome data coming out of that research was really a huge inspiration to me. I saw a massive whitespace and opportunity to help build that bridge between the medical community and the cannabis marketplace. There's been almost a century of cannabis prohibition setting back our scientific understanding of the plant. We know more about the rivers and plants in the Amazon than we do about the composition and compounds within the cannabis plant with regards to their wellness benefits.
I met my partners, Tyler Wakstein, Kris Bjornerud and Max Goldstein and we started a cannabis venture studio called OpenNest Labs, which is building out a diversified portfolio of cannabis consumer brands. We are focused on leveraging our collective experience at building ventures and communities and rallying those communities around a brand.
Over the last two and a half years, it's been super exciting building brands that you see on shelves. We're still in the early stages right now of building brand loyalty. A lot of cannabis consumers are still going into dispensaries and asking, "what is the cheapest product that I can buy with the highest potency?"
Green: Tell me about RealSleep, how did you come up with the idea and what is the basic concept for the end user?
Kamins: RealSleep comes from the passion that I had developed for medicinal aspects of the cannabis and hemp plant, thinking about not only THC and CBD – which are two major cannabinoids in the plant – but also thinking about the other 120 plus cannabinoids, each with their own unique properties.


It turns out that half the world's population suffers from one poor night of sleep a week, and sleep issues lead to the highest rate of other comorbidities. We were thinking about the addressable sleep market, with ourselves being a part of that market, and wanting to build products that would help not only ourselves, but the countless other people around the world that suffer from poor sleep too, as it impacts their daily lives.
I've had issues with sleep myself. I have a genetic hearing condition called tinnitus. It's a ringing in your ears that other people can experience environmentally from exposure to loud noises. I've had loud ringing in my ears my entire life even in quiet situations, like right before I go to sleep. I'll often be lying in bed awake for an hour or two unable to sleep with the ringing. Everyone else on the team has had their own sleep issues and realized the profound negative impact of lack of sleep on other areas of health and wellness, whether it be next day energy or immunity.
We felt that by leveraging our access to the medical research community and even running clinical research on our own to validate the efficacy of the product relative to other products on the shelves, we could create a product that was safe and effective. We came across a clinical trial on insomnia and CBD by one of our research partners, the Wholistic Research and Education Foundation. What we saw from a lot of that anecdotal data was that CBD, and hemp in general, really helps to provide restful and restorative sleep.
CBD and CBN are two highly effective compounds for sleep and melatonin is by far the most widely researched and used over the counter sleep aid. We are sourcing clinical research on other ingredients such as valerian root, L-Theanine and GABA, and the list of ingredients goes on. We were interested in formulating a product that incorporates these safe and effective ingredients.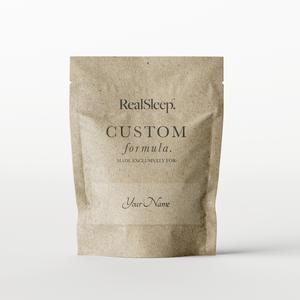 We noticed from our research and our access that sleep is as unique to an individual as their fingerprint. Take brainwave patterns when you are sleeping as an example. No one person's patterns are the same. You could essentially identify an individual based on those patterns. One solution, or one product, is not going to help everyone. So, we worked with UCLA and the head of their laboratory of sleep and circadian medicine, a gentleman by the name of Dr. Chris Colwell, to understand the science of sleep. He is one of the most renowned sleep researchers in the world and is the head of our scientific advisory board for RealSleep. We've done clinical studies with over 900 people and 10,200 nights of sleep and used this data to develop a personalization engine in the form of a quiz that takes 90 seconds and allows us to map ingredients to specific answer selections. From these answers we deliver products that are customized to the individual consumer specific to their unique needs
We're proud of the journey that we've gone on to understand the science and research behind sleep and to develop this personalization engine variations of products that work for each individual and their unique needs.
Green: Tell me how the questionnaire and personalization engine works. I understand the ingredient profile will change based on the customer's responses?
Kamins: Sleep impacts an individual's general health and wellness. For me, if I don't sleep well, my next day is filled with anxiety, and that anxiety leads to worse sleep; it's a vicious cycle. For other people, it could be a metabolic issue that leads to poor sleep or poor sleep that leads to weight issues. The list of other health issues and diseases linked to poor sleep goes on. So, while we're looking at combating sleep to prevent other health issues down the road, one person who's looking to get better sleep to improve one aspect of their life could be different from another person and the area of life they are looking to improve upon.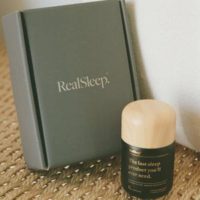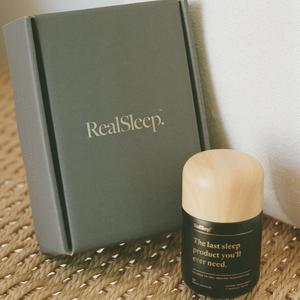 The quiz is essentially a combination of validated, reliable and flexible measures of patient reported outcomes. We use a combination of gold standard patient reported sleep questionnaires, one of which is called the Pittsburgh Sleep Quality Index, another being the RAND MOS scale, and others. We also work with our scientific advisory board and machine learning experts to advise us on customizing these questions with logic. We then use the responses to generate the appropriate formulations for our customers.
The questions cover everything from very specific questions on sleep, like sleep latency (the time it takes to get the bed) or sleep fragmentation (the number of times you wake up in the middle of the night) sleep duration, sleep quality, and then other areas of health that you're looking to improve upon. Examples include metabolism, cardiovascular health, skin health, anxiety and stress. So, all these things factor into the different ingredients that we layer into the formulation.
Let's say you don't have a problem getting to sleep, but you wake up a lot of times in the middle of the night. Your formulation might be very different from someone who has trouble getting to sleep, but they don't wake up in the middle of the night. Overall, one of our big goals with the formulation of all these products is that they increase your next day cognitive alertness by giving you that high sleep quality and restorative sleep. We don't want to make anyone groggy the next day. Because overall, what you're trying to achieve with sleep is you want to be ready to go the next day and be able to perform at your peak.
Green: So, you mentioned CBD, CBN and melatonin already as ingredients. Are there any other ingredients?
Kamins: Depending on what your answer selections are for the quiz, we will layer in L-Theanine, valerian root, Ashwagandha and even some of the other novel cannabinoids like CBC (cannabichromene). We have about 24 different ingredients that we can layer in, so it just depends. When you look at all the permutations and combinations of formulations and dosages, it's in the trillions. From a supply chain standpoint, we've simplified it in a way that makes it very easy to funnel people into one of many predefined combinations of ingredients and dosage levels.
Our algorithm is an unstructured machine learning algorithm. The more people that take the quiz and the more people that provide feedback on their sleep score makes our programming and our personalization engine smarter.
Green: How does your manufacturing and packaging work?
Kamins: We have a strong relationship with a pharmaceutical partner that we have been growing even before RealSleep. It is a pharmaceutical manufacturing facility underneath a regional health care provider in the state of California. Everything they do is incredible. It's a state-of-the-art facility and focused on complete transparency and building the products with the highest efficacy and safety profiles. They're based in LA, and they've been such a pleasure to build our supply chain with.
Green: What kind of trends are you looking at in the formulation space?
Kamins: From a cannabinoid side, there's been a bit more of a look towards some of the novel cannabinoids that have traditionally catered to a niche consumer base that is educated on cannabis. From being inside the industry, it's very easy for me to talk about all the different cannabinoids, but a lot of people still don't even know the difference between THC and CBD.


Our goal overall is to build efficacious products and educate people on all the different formulations and the different ingredients going in. Outside of cannabis, this year we've seen a large boom in consumer demand for Ashwagandha. There's just so much hype around it in terms of how it impacts stress and energy and even libido, which is interesting. It's probably the hottest non-cannabinoid ingredient that we've seen. Specific to sleep, the combination of L-Theanine and GABA and how they potentiate each other is impactful. Then there's valerian root, which has been a big one over the last few years for sleep.
Green: Last question. What are you most interested in learning about?
Kamins: A personal interest of mine over the last few years is understanding from a scientific perspective, each of the cannabis compounds in greater detail. I think part of it is just really the curiosity to know the unknown. We're at a point in the industry where there are still so many unknowns on the science-side of cannabinoids.
My passion for science has led me to support medical researchers in the space, so much so that I am an advisor and chief community officer to a nonprofit medical research organization called the Wholistic Research and Education Foundation, which to date has funded over six and a half million dollars in human clinical trials with cannabinoid rich therapeutics. One we're currently conducting at UC San Diego is studying the impact of CBD on autism and other neurological conditions. That's given me incredible exposure to research in the space. I am also a strategic advisor to a for profit medical research organization called Radicle Science, which is a very swiftly running clinical research for CBD and other cannabis brands in the space.
All in all, I'm driven by the possibilities that come with continuing to unlock the science behind the plant. By doing so, we can innovate products with efficacy and can educate people who are uninformed about the therapeutic benefits of cannabis, which will in turn benefit the industry and society. Striving for research breakthroughs and being transparent about our findings is going to help us destigmatize cannabis and legitimize the industry. 
Green: That concludes the interview. Thanks, Michael!
Kamins: Thanks, Aaron.