Remedy currently has two locations, one in Baltimore and one in Columbia, Maryland. The first thing you notice at these dispensaries are the large parking areas. When you step inside, you're greeted by an entrance that is less like a waiting room and more like a lounge.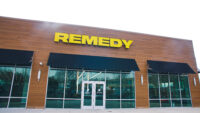 Their massive open floor plans offer space for brands to have their own area, akin to branded counters in traditional department stores. Remedy has partnerships with big cannabis brands like Cookies, Curio Wellness, Holistic, Rhythm, Trulieve, Green Thumb Industries and others for this reason: to create the "store within a store" feel.
We met Mitch Trellis and Brandon Barksdale, co-CEOs of Remedy, in Las Vegas last year. After hearing about their ideas and vision for the future of cannabis retail, we followed up with them for an interview.
Cannabis Industry Journal: Give us some brief background on your company. How did Remedy get to where it is today?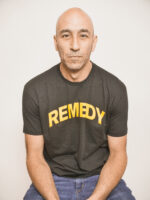 Mitch Trellis: I have been a patient and consumer since 1994. I have always loved and respected the plant. I spent much of my career on Wall Street, but really I've been an entrepreneur most of my life. I started looking at the cannabis space for my next venture. 2014 was a very exciting time for cannabis with a lot of other states were coming online around that time. Colorado had legalized adult use and California had been going for a while. I was looking for an opportunity to jump into the space. Maryland wrote a very progressive law legalizing the plant for medical use, marking the first time on the East Coast where cannabis could be prescribed for pain.
I saw some real business opportunities there so I reach out to my business partner, Blaize Connelly-Duggan, whose family has a long history working with alternative medicine. We were both born and raised in Columbia, Maryland. About a year after coming up with the idea, we submitted an application for a fully vertical license. We did not win the growing or processing license, but we found out we had won a dispensary license.
We decided to move forward in late 2016. We opened in December of 2017 and we just had our five-year anniversary of operating a dispensary in the state of Maryland. We have seen over 30,000 individual patients and we've done around 45 million retail sales over that time. We are on a good pace right now with our two stores, each of which we call "superstores" with around 10,000 square feet of space. We have built some pretty interesting retail experiences, what we call our in-store ad network. We are a little different than other dispensaries; we're not going for the Starbucks or corner store model.
Brandon Barksdale: I came from professional services. I was in a management consulting practice and a leader within our cannabis industry advisory group. We were working with clients on performance management, business improvement and organizational maturity that would help drive operational excellence within complex compliance and legislative landscapes.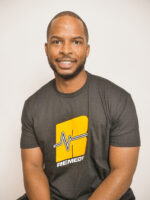 The clients that I had spanned over a lot of different states, so I think a lot of my initial experience comes from California in 2015 and 2016. Outside of consultancy, I stepped into operations within a vertically-integrated cannabis operation in Colorado. From there I gained the full breadth of experience in understanding the business from cultivation to manufacturing to retail. We were also operating on both sides of the market, medical and adult use. This put me at a little bit of an advantage for new markets coming online, understanding the economics and how things would play out, you know, history repeats itself, just faster and faster.
I met Mitch and Blaze through a mutual acquaintance and we shared a lot of the same vision and thoughts for where the industry was heading locally in Maryland and nationally. Ultimately, I came on board in an advisory capacity and then joined the team full time.
CIJ: Tell us more about this Nordstrom business model. What brand partnerships are you developing and how is your idea different from the traditional dispensary?
Mitch: We have basically built a platform for the brand and vendors to interact with the patients and the customers. There is a big gap between the two and we operate as a conduit between the two. In that plan, we need to have spaces for each individual brand to interact with the consumer, which is why we have such large floor plans. Brands set up semi-permanent stores within our store, almost like pop ups. Right now, on our floor we have Trulieve, Holisitic, GTI, Curio, Cookies, Sunmed and 2 or 3 more coming. That's the equivalent of the Sephora and Nike in Nordstrom.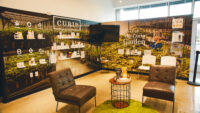 We have a handful of our own brands we are working on bringing to the state of Maryland, which is kind of like those generic brands you see, like Nordstrom Rack or a 365 brand in Whole Foods. So, it is a more traditional retail model than what you might think of in the cannabis market.
People ask us, 'well, what do you do differently?' And really, we try not to do things differently. We try to do things like regular retail. At the end of the day, it's about the experience, the price, the convenience, customer service, simple retail stuff.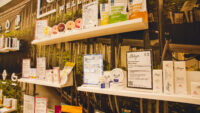 Brandon: The differentiator that separates us from other dispensaries is that retail experience. On our floor, we have a massive amount of brand power coming from the strongest Maryland supplies and household brands entering Maryland from other thriving markets. From there, it's really just about driving the patient and adult consumer experience, helping them come in and learn about brands, what makes them different, what drives their quality, price, etc. Ultimately it allows brands to present themselves the way they intended. That in itself is enough of a unique experience. Then it's about execution. What we hope as we come into a new adult use market while we continue to support the medical market is that there will be a way for patients and consumers alike to learn about more products, wider brand selection and learn what best aligns with their values, their experience and the overall value proposition.
CIJ: With Maryland legalizing adult-use and the Virginia market expected to open soon, how do you expect your retail business will fare in the new, larger market?
Mitch: We have very large stores in incredible locations that are very well known with tons of parking and the ability to do tremendous volume. I think we are well prepared and our business is built for a larger volume scenario.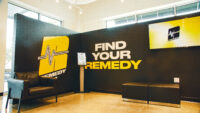 Brandon: I am personally very optimistic. Maryland is leading the way in the mid-Atlantic market. We will continue to steamroll forward. Different states and neighboring states will be coming online at some point in the future. That potentially advanced runway will really pull us apart. Our strategy around retail is about growth and operational excellence. We'll continue to find opportunities to support that broader market vision as it comes into view. We're constantly seeking how we can expand our market footprint. When I think about Maryland in general, it is a pretty unique market. I don't think we have seen a newer market come online that was as unique as this region, wrapped around this gray market and other states operating in this limbo.
I think we'll see an increase in cannabis comfortability with the adult population in Maryland. I also believe that and other unique factors will drive a huge jump in the number of consumers and patients in Maryland as we mature into adult-use. There are a significant number of government employees in Maryland. There are other unique sensitivities to cannabis that will also become normalized. As Maryland moves forward with the rollout of the adult use program, that'll be something that starts to pull uncomfortable stigmas away which will be increasingly favorable to the market.
CIJ: What are you excited about for 2023? Any new or exciting plans you can share with our readers? 
Mitch: We're definitely watching all of our neighboring states and we're keeping a close eye on our own state to see how everything shakes out. We will start our adult use sales in the state of Maryland very soon and we are moving forward in that direction. What do we look forward to? The beginning of adult use sales in Maryland. This is the start of our next big chapter and a culmination of a lot of work. 8 years later here we are.
Brandon: Maryland is next up. To Mitch's point, that is where our main focus remains. We are constantly looking at opportunities within the state and nationally as well. I'd like to think of us as a market leader from a retail perspective. Our primary focus right now is how to capture a lot of the excitement in the Maryland market adult-use program, however, our eyes and ears are always open.