Canndoc, an Israeli medical cannabis producer, just received a shipment of 250kg of dried whole flower cannabis. The company, a subsidiary of InterCure, just signed a strategic cooperation agreement with Canada's Tilray.
Interestingly the agreement is both for the import and export of flower. So don't count out a stream coming the other way. Or, more likely, the export of seed and cannatech related to the same.
Everything goes both ways – yin and yang. Even in this industry.
However what this also does is set up Tilray to have an excellent shot at being partnered at least with the first Israeli exporters when local demand is satisfied. And that, given their strategic footprint globally, but particularly in Europe, is a very unique advantage in a cannabis map that is shifting, literally, as the year becomes the new decade.
What Gives With The Ex-Im Discussion Anyway?
Israeli producers have longed for the day when they can bring their considerable tech and research advantage if not plant genomes and medicines to a global market. The medical program in Israel was originally funded largely by American federal money while domestic reform was fought, tooth and nail until the middle of the last decade. And of course so far, at least, despite Illinois clocking over into the 11th recreational state as of January 1 of this year, has remained stalled on a federal level in the U.S.
However, no matter the shifting politics of Israel (where lets not forget, the government is also mired in scandals and it appears the Israeli president, Benjamin Netanyahu delayed the export of cannabis in a deal with the U.S. to move the capital to Jerusalem), one thing was made clear last year by government officials: Israelis come first.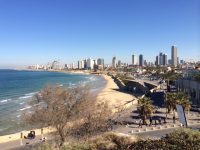 It is likely to be an attitude that spreads – particularly in places like Europe and even more so Germany. So far, the entire market here has been met with imports. This is the first year that there is regular medical production hitting pharmacy shelves thanks to Demecan and the former Wayland (now ICC).
Indeed, Wayland basically did the same thing in Germany as Tilray is doing now in Israel, although the firm had to sink a huge capital expenditure into setting up its cultivation sites. And at far greater cost.
Tilray appears to be hitching a ride on an existing industry to expand its reach, markets and of course, IP. Israeli cannatech, for sure, is going global.
How Could This Impact Other Discussions?
There are two places this development is likely to impact policy discussions outside of Europe where home grow has, let's not forget, also hit Italy in the last months. But similar ripples are afoot everywhere right now – from Portugal and Spain to Greece. While exporting can be a lucrative game, should it come at the expense of domestic citizens?
The first place this issue has already been a theme is obviously Canada, where this spectre was much in the room last year as the country transitioned to recreational while its top companies also established themselves abroad. In Europe this was mostly done without cultivation domestically except in a few rare instances. See Tilray in Portugal, Demecan in Germany, ICC in Italy and all of the partnerships between the top Canadian cultivators and Danish, Greek and Maltese producers.
The second place this will undoubtedly have an impact, however, is very much likely to be the United States. While most pundits agree that federal reform is at least a year or so off (roughly equivalent with European change of a recreational kind), this discussion is already in the room.
These days, six years after Colorado and Washington State upped the ante, companies may operate separate operations in multiple states, but of course, cannot ship across the border of any of them.
As soon as federal reform hits however, also expect to see these discussions going on at a state level across the United States. With healthcare devolving very much to the states, locally grown cannabis is going to play a major role in all of these discussions (starting with the opioid epidemic). If not, as many expect, an influx of cannabis from south of the border.
Those days, however at least in the U.S. are still several years away. In Israel, however, as Tilray lines up a unique profile across all of said jurisdictions, look for intriguing cannabis developments coming soon, in multiple jurisdictions.