In this "Leaders in Cannabis Testing" series of articles, Green interviews cannabis testing laboratories and technology providers that are bringing unique perspectives to the industry. Particular attention is focused on how these businesses integrate innovative practices and technologies to navigate a rapidly changing landscape of regulatory constraints and B2B demand.
PathogenDx is an Arizona-based provider of microbial testing technologies. Since their inception in 2014, they have broadened their reach to 26 states in the US. In addition to cannabis product testing, PathogenDx also provides technologies for food safety testing, environmental testing and recently started offering human diagnostics testing to support COVID-19 response efforts.
We interviewed Milan Patel, CEO and co-founder of PathogenDx. Milan founded PathogenDx as a spin-off from one of his investments in a clinical diagnostics company testing for genetic markers in transplant organs. Prior to PathogenDx, Milan worked in finance and marketing at Intel and later served as CFO at Acentia (now Maximus Federal).
Aaron Green: What's the history of PathogenDx?
Milan Patel: PathogenDx was effectively a spin-off of a clinical diagnostics company that my partner Dr. Mike Hogan, the inventor of the technology, had founded when he was a professor at the University of Arizona, but previously at Baylor Medical College back in 2002. I had invested in the company back then and I had realized that his technology had a broad and wide sweeping impact for testing – not just for pathogens in cannabis specifically, but also for pathogens in food, agriculture, water and even human diagnostics. In the last 14 months, this became very personal for every single person on the planet having been impacted by SARS-CoV-2, the viral pathogen causing Covid-19. The genesis of the company was just this, that human health, food and agricultural supply, and the environment has and will continue to be targeted by bacterial, fungal and viral pathogens impacting the safety and health of each human on the planet.
We founded PathogenDx and we pivoted the company from its original human organ transplant genetics market scope into the bigger markets; we felt the original focus was too niche for a technology with this much potential. We licensed the technology, and we repurposed it into primarily cannabis. We felt that achieving commercial success and use in the hands of cannabis testing labs at the state level where cannabis was first regulated was the most logical next step. Ultimately, our goal was and is to move into markets that are approved at the federal regulatory side of the spectrum, and that is where we are now.
Green: What year was that?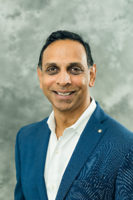 Patel: 2014.
Green: So, PathogenDx started in cannabis testing?
Patel: Yes, we started in cannabis testing. We now have over 100 labs that are using the technology. There is a specific need in cannabis when you're looking at contamination or infection.
In the case of contamination on cannabis, you must look for bacterial and fungal organisms that make it unsafe, such as E. coli, or Salmonella or Aspergillus pathogens. We're familiar with recent issues like the romaine lettuce foodborne illness outbreaks at Chipotle. In the case of fungal organisms such as Aspergillus, if you smoke or consume contaminated cannabis, it could have a huge impact on your health. Cannabis regulators realized that to ensure public health and safety there was more than just one pathogen – there were half a dozen of these bugs, at a minimum, that could be harmful to you.
The beauty of our technology, using a Microarray is that we can do what is called a multiplex test, which means you're able to test for all bacterial and fungal pathogens in a single test, as opposed to the old "Adam Smith" model, which tests each pathogen on a one-by-one basis. The traditional approach is costly, time consuming and cumbersome. Cannabis is such a high value crop and producers need to get the answer quickly. Our tests can give a result in six hours on the same day, as opposed to the two or three days that it takes for these other approved methods on the market.
Green: What is your business model? Is there equipment in addition to consumables?
Patel: Our business model is the classic razor blade model. What that means is we sell equipment as well as the consumables – the testing kits themselves.
The PathogenDx technology uses standard, off-the-shelf lab equipment that you can find anywhere. We didn't want to make the equipment proprietary so that a lab has to buy a specific OEM branded product. They can use almost any equipment that's available commercially. We wanted to make sure that labs are only paying a fraction of the cost to get our equipment, as opposed to using other vendors. Secondly, the platform is open-ended, meaning it's highly flexible to work with the volumes that different cannabis labs see daily, from high to low.
One equipment set can process many different types of testing kits. There are kits for regulated testing required by states, as well as required environmental contamination.
Green: Do you provide any in-house or reference lab testing?
Patel: We do. We have a CLIA lab for clinical testing. We did this about a year ago when we started doing COVID testing.
We don't do any kind of in-house reference testing for cannabis, though we do use specific reference materials or standards from Emerald Scientific, for example, or from NCI. Our platform is all externally third-party reference lab tested whether it's validated by our external cannabis lab customers or an independent lab. We want our customers to make sure that the actual test works in their own hands, in their own facility by their own people, as opposed to just shrugging our shoulders and saying, "hey, we've done it ourselves, believe us." That's the difference.
Green: Can you explain the difference between qPCR and endpoint PCR?
Patel: The difference between PathogenDx's Microarray is it uses endpoint PCR versus qPCR (quantitative real time PCR). Effectively, our test doesn't need to be enriched. Endpoint PCR delivers a higher level of accuracy, because when it goes to amplify that target DNA, whether it's E. coli, Salmonella or Aspergillus pieces, it uses all the primer reagent to its endpoint. So, it amplifies every single piece of an E. Coli (for example) in that sample until the primer is fully consumed. In the case of qPCR, it basically reaches a threshold and then the reaction stops. That's the difference which results in a much greater level of accuracy. This provides almost 10 times greater sensitivity to identify the pathogen in that sample.


The second thing is that we have separated out how the amplified sample hybridizes to the probe. In the case of our assay, we have a microarray with a well in it and we printed the actual probe that has the sequence of E. coli in there, now driving 100% specificity. Whereas in the qPCR, the reaction is not only amplifying, but it's also basically working with the probe. So, in that way, we have a higher level of efficiency in terms of specificity. You get a definite answer exactly in terms of the organism you're looking for.
In terms of an analogy, let's take a zip code for example which has the extra four digits at the end of it.  In the case of endpoint PCR, we have nine digits. We have our primer probes which represent the standard five digits of a zip code, and the physical location of the probe itself in the well which serves as the extra four digits of that zip code. The analyte must match both primary and secondary parts of the nine-digit zip code for it to lock in, like a key and a lock. And that's the way our technology works in a nutshell.
Endpoint PCR is completely different. It drives higher levels of accuracy and specificity while reducing the turnaround time compared to qPCR – down to six hours from sample to result. In qPCR, you must enrich the sample for 24 to 48 hours, depending on bacteria or fungus, and then amplification and PCR analysis can be done in one to three hours. The accuracies and the turnaround times are the major differences between the endpoint PCR and qPCR.
Green: If I understand correctly, it's a printed microarray in the well plate?
Patel: That's correct. It's a 96-well plate, and in each well, you've now printed all the probes for all targets in a single well. So, you're not running more than one well per target, or per organism like you are for qPCR. You're running just one well for all organisms. With our well plates, you're consuming fewer wells and our patented foil-cover, you only use the wells you need. The unused wells in the well plate can be used in future tests, saving on costs and labor.
Green: Do you have any other differentiating IP?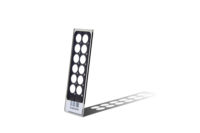 Patel: The multiplex is the core IP. The way we process the raw sample, whether it's flower or non-flower, without the need for enrichment is another part of the core IP. We do triplicate probes in each well for E. Coli, triplicate probes for Salmonella, etc., so there are three probes per targeted organism in each of the wells. We're triple checking that you're definitively identifying that bug at the end of the day. This is the cornerstone of our technology.
We were just approved by the State of New York, and the New York Department of Health has 13 different organisms for testing on cannabis. Think about it: one of the most rigorous testing requirements at a state level – maybe even at a federal level – and we just got approved for that. If you had to do 13 organisms separately, whether it's plate culture or qPCR, it would become super expensive and very difficult. It would break the very backs of every testing lab to do that. That's where the multiplexing becomes tremendously valuable because what you're doing is leveraging the ability to do everything as a single test and single reaction.
Green: You mentioned New York. What other geographies are you active in?
Patel: We're active in 26 different states including the major cannabis players: Florida, Nevada, California, Arizona, Michigan, New York, Oklahoma, Colorado and Washington – and we're also in Canada. We're currently working to enter other markets, but it all comes down to navigating the regulatory process and getting approval.
We're not active currently in other international markets yet. We're currently going through the AOAC approval process for our technology and I'm happy to say that we're close to getting that in the next couple of months. Beyond that, I think we'll scale more internationally.
I am delighted to say that we also got FDA EUA federal level authorization of our technology which drives significant credibility and confidence for the use of the technology. About a year ago, we made a conscious choice to make this technology federally acceptable by going into the COVID testing market. We got the FDA EUA back on April 20, ironically. That vote of confidence by the FDA means that our technology is capable of human testing. That has helped to create some runway in terms of getting federalized with both the FDA and the USDA, and certification by AOAC for our different tests.
Green: Was that COVID-19 EUA for clinical diagnostics or surveillance?
Patel: It was for clinical diagnostics, so it's an actual human diagnostic test.
Green: Last couple of questions here. Once you find something as a cannabis operator, whether its bacteria or fungus, what can you do?
Patel: There are many services that are tied into our ecosystem. For example, we work with Willow Industries, who does remediation.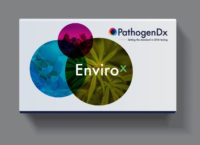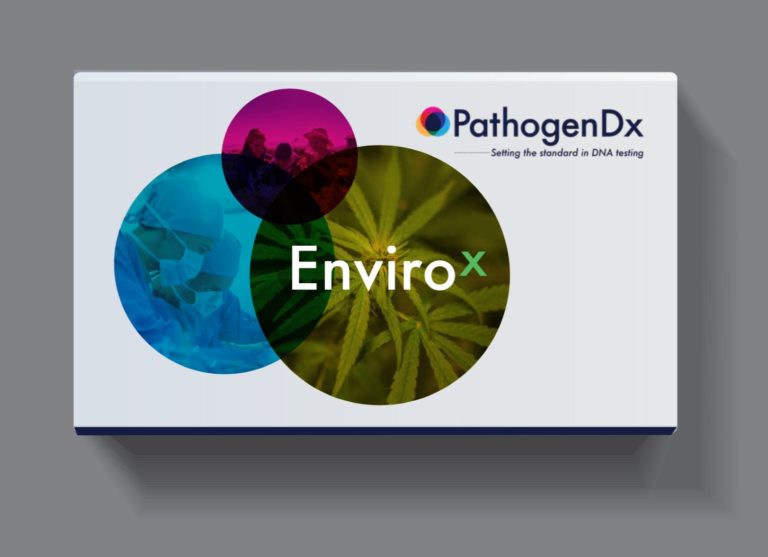 There's been a lot of criticism around DNA based technology. It doesn't matter if it's qPCR or endpoint PCR. They say, "well, you're also including dead organisms, dead DNA." We do have a component of separating live versus dead DNA with a biomechanical process, using an enzyme that we've created, and it's available commercially. Labs can test for whether a pathogen is living or dead and, in many cases, when they find it, they can partner with remediation companies to help address the issue at the grower level.
Another product we offer is an EnviroX test, which is an environmental test of air and surfaces. These have 50 pathogens in a single well. Think about this: these are all the bad actors that typically grow where soil is – the human pathogens, plant pathogens, powdery mildew, Botrytis, Fusarium – these are very problematic for the thousands of growers out there. The idea is to help them with screening technology before samples are pulled off the canopy and go to a regulated lab. We can help the growers isolate where that contamination is in that facility, then the remediation companies can come in, and help them save their crop and avoid economic losses.
Green: What are you most interested in learning about?
Patel: I would prefer that the cannabis industry not go through the same mistakes other industries have gone through. Cannabis started as a cottage industry. It's obviously doubled every year, and as it gets scaled, the big corporations come in. Sophistication, standards, maturity all help in legitimacy of a business and image of an industry. At the end of the day, we have an opportunity to learn from other industries to really leapfrog and not have to go through the same mistakes. That's one of the things that's important to me. I'm very passionate about it.
One thing that I'll leave you with is this: we're dealing with more bugs in cannabis than the food industry. The food industry is only dealing with two to four bugs and look at the number of recalls they are navigating – and this is a multi-billion-dollar industry. Cannabis is still a fraction of that and we're dealing with more bugs. We want to look ahead and avoid these recalls. How do you avoid some of the challenges around antimicrobial resistance and antibiotic resistance? We don't want to be going down that road if we can avoid it and that's sort of a personal mission for myself and the company.
Cannabis itself is so powerful, both medicinally as well as recreationally, and it can be beneficial for both consumers and industry image if we do the right things, and avoid future disasters, like the vaping crisis we went through 18 months ago because of bad GMPs. We must learn from those industries. We're trying to make it better for the right reasons and that's what's important to me.
Green: Okay, great. That concludes the interview. Thank you, Milan.
Patel: Thank you for allowing me to share my thoughts and your time, Aaron.