It is obviously not just at conferences but now on the ground in Germany and across Europe that Americans are heading to the industry here. And it is not just the "new" cultivation guys at Demecan in Berlin (currently hiring), or in Guernsey, but in truth, throughout the industry.
Wish you were here? Here is the broad skinny to actually getting (and keeping) a job in the industry in Europe.
Get A Job Before You Come
By far, the easiest and safest way to come to a new country, like Germany (or the UK for that matter) is to have pre-arranged employment. That is also beginning to happen, as large companies set up grow and manufacturing facilities throughout Europe. That said, these are hard to come by (there are many Germans and other natives vying for the same jobs). However so far, certain kinds of experience in the U.S. (or Canada) beats anything that has gotten going here so far from the cultivation side and many other aspects of the biz.
But – and this is a big one – you have to have the kind of experience that counts. Regulated industry participation is a must on your CV if this is your preferred route of travel. Pharmacists in particular, could have a fascinating career path here not open in the United States at all yet. So will doctors – but that certification has to be earned here to practice.
It is also far easier to deal with the paperwork that is required than it used to be ironically – in that there are new qualifications being set out for the same in both the UK and Germany at the moment. Understanding them, however is another matter, and interpretation at the immigration office is not something you want to sign yourself up for. In any language.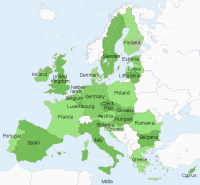 However, immigration law is just the beginning on the regulation front. Regulations across the cannabis industry are also changing fast – and not just under the heading "cannabis."
Nothing, really is "easy" about being an expat. You have to want to do this.
There are now starting to be numerous European job postings in the industry on Linked In. It is a great place to start. Having B1 Deutsch (third level, very hard to pass, intensive German language certification) is usually a must for employment (not to mention getting around in the country).
Disclosure: This journalist failed A1 German in Germany (introductory level) twice. Starting from scratch is not recommended, because the rest of your class (usually with previous German training) will kick your butt in numbers bingo by the end of the first week. Learning – including punctuation and spelling 50 new vocabulary words a week is pretty standard. And that is before the grammar. All taught in German too! Four hours a day, five days a week.
Yes, your class will laugh at you, even if they think you are otherwise cool as a North American.
It also helps if you have taken at least one German language course (as in college semester level) before you come. Otherwise you will hit unbelievably intimidating compound words that take up a great deal of space on a page and four different tenses that even native Germans do not really understand by the end of the second week (and it is mind-blowing). You learn to appreciate Mark Twain's humour about the dratted language very quickly, not to mention that the umlaut is really the only thing you have any freedom of expression with.
Be prepared to sign up for language courses when you land with the local VHS (Volkshochschule) – which is sort of like German community college for anything you want to take classes in. It is also the cheapest deal on language courses around. The private ones are pricey.
That said, master the lingo, even passably, and Germans are super pleased about the same. No matter how badly you mangle the language, they are just happy to hear you try.
Student Visas and the Educational Path
By far, the easiest path to starting your journey overseas, is luck. The second one however, is actually one way to go if you are prepared to work yourself to the bone, and do it while learning German intensively. Plus get a university level or graduate degree along the way.
If Cannabis Europe is your dream job and vocation, you will make it happen. Just don't expect it to be easy, or just like anywhere else.Go first as a language student. That gets you two years, fairly easily, as long as you have €8k in your bank account at all times, and do not work at a German job. That is verboten. However, as an American, particularly in Germany, you still have the right to come here and learn.
There is also about to be a fairly ground-breaking immigration law that comes into effect as of March in Germany that allows highly skilled foreigners to earn their way to citizenship. There is a list of requirements that go along with this, of course. The path to being able to stay includes getting a higher German degree or special German training. Expect pretty much the same thing from post-Brexit Britain too – just in the same language.
You also have to have health insurance and a lot of other things taken care of. It is not a sudden move or jump. For all the amazing things that come with this, also be prepared to think about looking in the mirror at least a few times and thinking "am I stupid, what on earth have I done?"
Then there is location. A Kreuzburg address may impress the folks back home, but those are not cheap these days, and extremely hard to come by. Rent, in general, and not just in Berlin, is beginning to be a real issue in every German city. Finding an accommodation that you can afford in "starting out" circumstances – is not easy right now anywhere.
But it's not just about rent or the buzz you might have heard. Don't just put Berlin on the map (or even Munich, also a growing professional scene). Both cities are far from the center of the cannabis scene in Europe, much less Germany although there is a lot going on all the time there. Dortmund, and the Ruhrgebeit in the former "Rust Belt" of Germany are much cheaper, full of students, and popping with cannabis reform all over. Cologne is also a very interesting city right now. So are Bremen and Stuttgart.
The Differences Are Large Besides the Language
No matter what you think you can expect, the only thing you can rely on is that just about everything will not be the same. Yes, German beer fests and bratwurst are comfortingly familiar to be accepted easily. But when it comes to really immersing yourself in a country well enough to think of it as "home", let alone understanding the vagaries of this business in particular? Just about everything is different. This ain't Kansas, (or Colorado, for that matter) Dorothy.
Bottom line? If Cannabis Europe is your dream job and vocation, you will make it happen. Just don't expect it to be easy, or just like anywhere else.