CanPay, a debit payment solution for the cannabis space, announced today their partnership with Harborside, the largest medical dispensary brand in the United States. The partnership will allow Harborside's more than 200,000 patients to use a mobile debit app when purchasing cannabis through their delivery service, instead of bringing cash.
For deliveries, patients would use the CanPay app on their device "to generate a secure, single-use payment token that includes no personal identifiable information," according to the press release. A Harborside delivery employee scans the token and the money is transferred from the patient's checking account to Harborside. This allows for delivery employees to make less cash transactions and affords patients the luxury of not having to take out cash to get their medicine.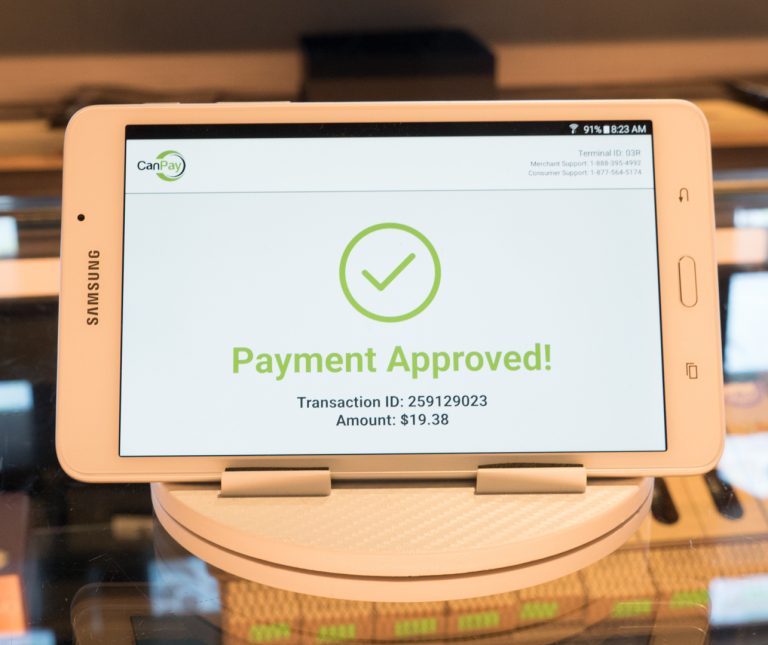 Harborside, founded in 2006, is recognized as the largest nonprofit cannabis dispensary in California, and the United States. They were reportedly the first dispensary to lab test their products. Being an advocate for patients and their safety, they offer a variety of free health and wellness services. "It's important to us that we stay on the forefront of patient care and access to the products our community needs to improve their quality of life," says dress wedding, co-founder of Harborside. "CanPay enables us to continue delivering on those goals by normalizing the payment process for our patients and staff."
CanPay launched last year in November and has since expanded to over 50 dispensaries and six different states. The premise of their system is a secure and safe transaction for customers or patients of dispensaries. "To ensure privacy and security, all purchases are made using non-identifiable, single-use, and random payment tokens generated in the CanPay App," reads the press release. CanPay is currently serving businesses in Washington, California, Colorado, Maine, Florida, and Oregon.
"Patients who rely on cannabis for preexisting medical conditions should not have to be inconvenienced or have their safety put at risk by a cash-only model," says Dustin Eide, chief executive officer of CanPay. "Delivery is a mainstream solution and payments should be able to keep up with the industry. By partnering with Harborside, we are providing their patients the benefits of more secure, transparent transactions." According to Eide, their service is compliant with federal medical cannabis policy and guidance. "CanPay's service operates under compliance programs built around the Cole Memo and FinCEN Guidance issued by the Department of Justice and the Treasury, respectively, and updated on Feb. 14, 2014 which provided guidance to financial institutions on the conditions with which they can provide banking services to the state regulated cannabis industry without incurring federal action," says Eide. "Also, CanPay utilizes the Automated Clearing House (ACH) network to affect our services in full transparency. While Visa and MasterCard have established clear rules prohibiting cannabis transactions on their networks, the ACH network relies on the individual financial institutions to determine what type of transactions may occur." Because of that, Eide says, there's no need to hide transactions, unlike services that use Visa or MasterCard that require using an obscure legal entity name or a financial intermediary's name.
According to Dustin Eide, CanPay is designed to be a long-term solution for the cannabis industry's cash transaction woes. "At approximately 2% fees to the dispensary (and no cost to the consumer), CanPay will be a low cost payment service compared to Visa and MasterCard when they do enter the market, which we've been told by our contacts at the companies that this won't be until federal law changes," says Eide. He thinks that when MasterCard and Visa begin working with cannabis businesses, they will charge higher transaction fees in the 3-4% range, given the high-risk nature of the market. "CanPay's challenge is to gain sufficient breadth of coverage with dispensaries and adoption among cannabis consumers to be able to offer that value on a wide scale prior to Visa and MasterCard's entry into the market."
Looking to the future, Eide hopes the partnership with Harborside will lead to more business. "CanPay couldn't ask for a better partner to enter into the California cannabis market, which is expected to top $20 billion by 2020, than Harborside, one of the world's most respected and well-known cannabis organizations," says Eide. "It is an honor to be chosen by Harborside, who has their pick of services for the cannabis industry, to facilitate their cashless delivery payments and enhance the safety and convenience of purchasing medicine from Harborside for both their patients and their employees."