Unlike the food industry, the cannabis industry is still in its infancy. Which means there is not a push from retailers demanding cannabis farmers, extractors or manufacturers to get third-party audits. In fact, most grow operations supply into their own dispensaries. So why should a cannabis farmer, extractor or manufacturer get a third-party audit? Third-party audits are crucial to maintaining product safety and quality by providing a third set of eyes to verify what is working and what is not. Besides regulatory requirements and customers requiring your facility to get a third-party audit, there are numerous other benefits to receiving an audit. Some of these benefits include: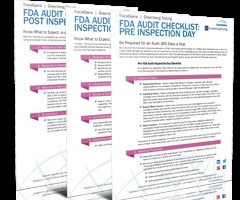 Improvement to product safety
Improvement to product quality and consistency
Meeting regulatory compliance
Eliminating potential risks and possible recalls
Marketing advantages over competitors who are not audited by a third-party
Improvement to consumer confidence and an increase to brand loyalty
How to Prepare for a Third-Party Audit

Working for a certification body, I am in the unique position to see numerous sites go through the certification process. In this position I have seen both extremes: Sites that spend 6-8 months and a lot of resources preparing for an audit, as well as sites that wait until the day before to even look at the audit standard. Unfortunately, the latter is almost always going to fail the audit. Here are seven steps for preparing for your next third-party audit."By failing to prepare, you are preparing to fail."– Benjamin Franklin
Start Preparing Early
Think of your third-party audit as a college exam one month away. You could start studying for the exam now and get a real understanding of the material or you could wait until the day before to start your no-sleep, energy drink-fueled, 24-hour cram session. We all know which preparation method will get a better score on the exam. Now let's apply that same strategy to your third-party audit. Once you have decided what audit is best for your site and have those specific standards in your hand, the clock starts ticking and you should already be preparing for the audit, whether it is one month or six months away.
Get Management Commitment
It is essential to the entire cannabis safety and quality system to have commitment from top down. Without this, the site will not get the resources (people, equipment, money, time, etc.) they need to pass a third-party audit. Management commitment is so important that it is often seen as its own section in most modern audit standards. It is very easy for third-party auditors to identify when there is a lack of management commitment in a site. Therefore, if you don't get management commitment, then you are already starting off the audit on a bad note.
Create a To-Do-List
Think of the entire audit checklist or standard as your long to-do list. Some things, like attaining a certificate of analysis (COA) from a supplier, may only need to be done annually. While other things, such as ensuring employees are following Good Manufacturing Practices (GMPs), will need to be done continuously throughout day to day operations. Go through the audit checklist and separate what needs to be done annually, semiannually, quarterly, monthly and continuously throughout day to day operations. This will give you a list with all of the frequencies of each different requirement.
Teamwork

"Teamwork makes the dream work, but a vision becomes a nightmare when the leader has a big dream and a bad team." – John C. Maxwell
The preparation of an audit should never rest on the shoulders of one person. Yet this is something I tend to see too often in both food and cannabis facilities alike. Your site should establish a cannabis safety and quality team of multidiscipline personnel that have an impact on product safety and quality. Once the team is established, various tasks from the to-do-list can be disbursed among all the members of the team. Collaboration is key to successfully preparing for a third-party audit, especially when the timelines are very stringent.
Training
Training is essential to preparing for your third-party audit. This is what closes the gaps between what the safety and quality department have developed and what your front-line employees are applying. All employees should know what part of the audit standard applies to them. Additionally, employees should be trained on interview questions that the auditor might ask them during the audit. Helping them prepare for these types of questions will help ease their nerves and allow them to answer the questions with self-assurance when it comes time to the actual audit.
Conduct Internal Audits
Conducting internal audits is not only a great way to prepare for your third-party audit, it's a requirement. You should always use the audit checklist to observe your documents and facility to see where there are gaps. If possible, the person or team conducting the internal audit should never review their own work. Additionally, all issues or non-conformances should be noted, evaluated, corrected and closed out.
Third-Party Pre-Assessment or Mock Audit (Optional)
A third-party pre-assessment or mock audit is the closest thing you can get to an actual audit. This is where a company would come in and evaluate your site to the specific standards and give a formal report over any deficiencies found during the assessment and how to fix them. This is a great way to test your preparedness before the actual audit.