As more states legalize the use of cannabis for both medicinal and adult use, the market is growing exponentially. For growers and dispensaries, that means bringing their 'A' game when it comes to marketing their cannabis products – and that includes labels.
Not only do your cannabis labels need to be compliant with regulations, but you also need to make sure they stand out from the competitors. However, while creating a label seems like it should be easy, it can be a challenge to navigate the complex and murky legal landscape.
But don't worry, we've got your back! Let's take a look at the key federal regulations you need to be aware of, what NOT to put on cannabis labels and expert advice to help you find the perfect label material for your brand. Let's get started.
Cannabis Labeling Requirements: What You Need to Know 
As of now, cannabis has not been ruled legal in all 50 states. However, states where cannabis is legalized determine their own set of rules and guidelines. These legislative guidelines are constantly being updated and revised for the labeling and packaging of cannabis products, so staying compliant can be challenging for dispensaries and manufacturers.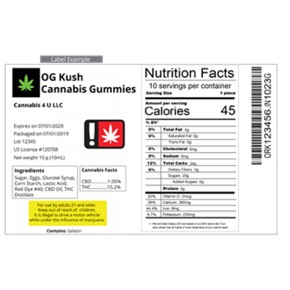 Since packaging laws vary by state, it's important to follow general federal regulations for your product, as well as check your state for cannabis-specific label requirements.
At the very least, you should understand and follow cannabis labeling regulations in accordance with the Federal Food, Drug, and Cosmetics Act (FDCA). Let's dive right into the basic elements that FDCA requires when labeling cannabis products.
Name and Location of Business: It is critical to always include the name and location of your business on both the inner and outer information panel. In doing so, customers always have a way to contact you for any questions. If you are worried about taking up too much space, a QR code is a great way to offer additional information.
Product Identity: Is your product meant to be used for adult or medicinal use? You must include what your cannabis product is or does on the Product Display Panel (PDP) so it's easy for customers to locate.
Net Quantity of Contents: Net quantity refers to the total weight or volume of a finished product (excluding packaging) and is federally mandated on labels. For packaged liquid cannabis products, net quantity should be labeled in fluid measure. Meanwhile, packaged solid, semi-solid and viscous cannabis products should be labeled in dry weight.
Warning Statements: Since cannabis is still listed as a Schedule 1 Controlled Substance, it's recommended to include warning statements for the specific product types. For example, the warning statement should stay "for medical use only" for all medical cannabis products.
List of Ingredients: You must include a complete declaration of all ingredients in your cannabis product. This must be listed on the informational panel on the outer packaging. If there is no outer packaging, then it must be placed on the product package itself.
Disclosure of Critical Facts: In general, this includes critical information that customers would want to know when buying your product. This can include:

Suggested use for the product
Application instructions
Expiration date 
What NOT To Put On a Cannabis Label
Proper cannabis labeling can ensure you remain compliant with regulations and legal requirements. Without compliance, you won't be able to sell your products and could lead to a hefty fine – and nobody wants that! Here are the things you should stay away from adding to your label:
Unapproved Health Claims: As of now, both federal law and state laws do not recognize cannabis as a dietary supplement or substance that can help prevent, cure or treat serious diseases. For that reason, your safest bet is to stay away from making any false health claims on labels and websites.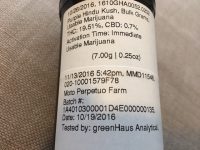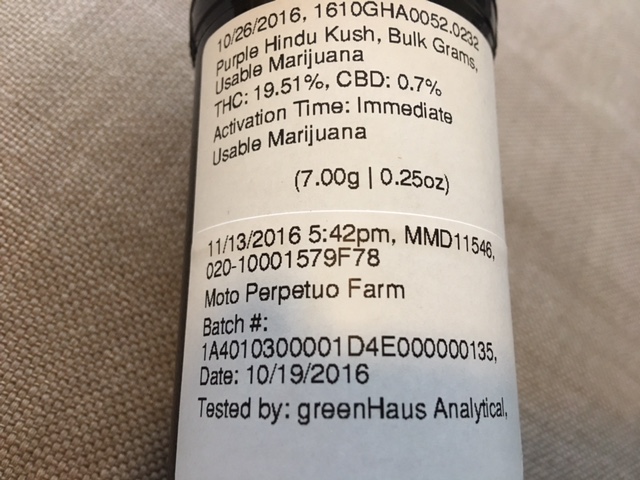 Obscured Fonts: Text and font issues can muddle the look of your cannabis label and land you into compliance issues. Most states require cannabis labels to have a font and text size that is prominent, clear and easy to read for information panels. Therefore, it is critical to find typography that showcases your brand while maintaining compliance with federal and state regulations.
Faulty Ingredient List: Cannabis labels must accurately include the types of compounds present, it's percentage and dosage found in the product. Plus, it is required that all cannabis products include cannabinoid profiles and provide a list of any active ingredients.
Considerations for Labeling Materials
To cut through the noise in a highly competitive retail environment, it's critical to carefully consider the label materials for your cannabis product. Here are some things to consider.
Label Material Choice: Polypropylene or Paper
Take into account what your cannabis product is (tincture, gummies, etc.) when choosing your label material. For example, if it's a liquid cannabis product, your label can come into contact with the liquid itself, causing damage and risk the label falling off over time. For that reason, the polypropylene label would be the better choice because it's waterproof, oil-resistant and offers more durability. On the other hand, if your cannabis product does not require a lot of protection and you are looking for a more affordable option, then paper labels would be the better option.
Coating Choice: Matte or Glossy
Choosing between matte or glossy finish depends on your preferred brand aesthetic. If you are looking to dazzle some customers and have a vibrant design on your cannabis label, then it's best to choose a glossy finish because it holds the ink better. As a result, your label design will appear striking and crisp when printed! But, maybe that's not the vibe of your cannabis brand so you're looking for something more traditional. If so, a matte finish is a better choice because it absorbs some of the ink – producing that vintage, distressed look!
Final Thoughts
Your cannabis products deserve to stand out and shine in this booming market. But your product won't even make it to the market if you are not following label requirements. Proper cannabis labeling ensures that the product is compliant, builds trust with your customers and boosts your credibility within the space. Since requirements are constantly evolving in this new industry, you must always triple-check with both federal and state regulations for the most up-to-date information in regards to cannabis product labeling. In doing so, you'll be able to design an enticing package with proper labels that will earn heart eyes from consumers, while providing essential information about your product.