Environmentally conscious manufacturing has never been more important; for the survival of both the planet and your business. The internet makes CBD product comparisons quick and efficient, so consumers can interrogate every aspect of your product and processes before deciding to make a purchase. Sustainability credentials are now a primary decision making factor for your customers.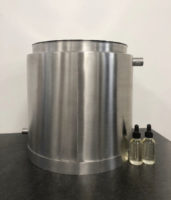 For business of all sizes, improving resource use and efficiency is a great place to start. This will reduce waste and improve your environmental impact, and has the added benefit of improving your return on investment!
I always recommend investing in stainless steel equipment for manufacturing and distributing CBD oils. Stainless steel is one of the most environmentally efficient raw materials, because of its durability and ability to be recycled. Vessels last an extremely long time, and even once their service life is over, they should never enter the waste stream. Many of our US customers transport their CBD products around the world in stainless steel vessels, which can then either be shipped back for re-use, or re-used at the recipient site.
In terms of finding your ideal equipment supplier, those who have won awards for their environmental initiatives are the cream of the crop; they can be a real asset to your business and will often collaborate on sustainability-themed social content, which is really valuable to get in front of your customers.
Once you've investigated the credentials of suitable suppliers, how do you make sure their blending equipment will perfectly meet your needs?
Here are my recommended four points for consideration:
Adding Toggle Clamps keeps your products airtight and reduces the chance of contamination in transit

Vessel Capacity: Vessel capacity must be considered in two ways; maximum and minimum working capacity. Standard vessels have their capacity listed as 'brim full' – suppliers tell you the total overall volume of space in the vessel. However, maximum capacity must allow for 10-20% free space below 'brim full', so that if product is being mixed and stirred, there is no overspill. For example; to blend 75L batches of CBD oil, it's generally recommended to purchase a 100L mixing vessel.

Vessel Bottom Shape: Standard vessels have flat bottoms, which makes it difficult to drain them to completely empty. An experienced supplier such as Pharma Hygiene Products has the capability to modify standard vessels, to include a sloped bottom at 3 degrees, which reduces leftover product pooling when draining your oils. Vessels can also be custom-made with a cone or dish shaped bottom, whereby a valve can be positioned in the centre of the base to allow full draining, to reduce waste and increase profitability.
Stainless Steel Grade: Stainless steel blending vessels for CBD oils are generally offered in 304 or 316L pharmaceutical-grade material. A simple description of the difference is that 316L grade contains an extra 2% molybdenum, for additional corrosion-resistance. Increased regional and interna­tional legislation concerning CBD products has come hand-in-hand with tighter interrogation of hygiene practices. Contaminant-free materials such as stainless steel are ideal to ensure international pharma-quality compliance for your business' blending processes. Critically, at Pharma Hygiene Products a comprehensive range of compliance certification is available to confirm the grade of material, to prove surface smoothness, and to guarantee that no cross-contamination from BSE or CJD diseases occurs.

Hygienic stainless steel CBD storage & transportation vessels

Lastly, don't forget to let your supplier know in advance if you have any special requirements for your product or vessel. Some common examples include:
Flammable product components – Requiring ATEX certified blending equipment.
Temperature control – Adding a water jacket to your vessel is a simple solution for heating, cooling or maintaining the temperature of your product as it blends.
Toggles and seals – For airtight, contaminant-free transportation.
Viewing holes – For easy visual inspection whilst blending.
Your equipment supplier can be a real financial and reputational asset, so be sure to do your homework before making an investment!