Everyone knows that the packaging of your cannabis product creates the first impression for a potential customer. However, product packaging is sometimes an overlooked detail for new and existing cannabis businesses. The packaging design for your cannabis product is vital to establishing your brand and building a loyal customer base. Packaging impacts your product significantly: it must keep your products safe and secure, but it also has to help you increase your sales volume and bottom line. Ultimately, a well-executed and managed brand translates into increased profitability.
Today, plastic HDPE, LDPE, PP and PET bottles and closures are widely-accepted packaging options for cannabis products. Plastic packaging offers abundant choices, but how do you know which plastic bottle and closure is right for your product? Here is a checklist that will help you create packaging that hits the target.
Know Your Competitors
Do your research and check out the competition. What are other cannabis companies doing? What type of plastic packaging do they use and is it high quality? What is their message and are they consistently branding their packaging across all product lines? How can your cannabis packaging stand out and attract attention? This knowledge will help you to define your brand and how you can differentiate your cannabis products from your competitors with the right packaging.
Appeal to Your Target Audience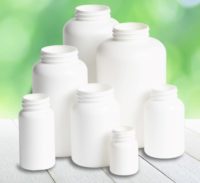 Your cannabis products can't fulfill the needs of all consumers, so define the type of consumer you are trying to reach. Tailor your message to the specific groups that meet your brand's criteria. Consider demographics such as lifestyle, age, location and gender. Also consider what is important to them. For example: is your target audience concerned about the environment? If so, consider plastic packaging alternatives such as Bioresin. Polyethylene produced from ethanol made from sustainable sources like sugarcane, commonly known as Bioresin, are becoming more common. Bioresin bottles have the same properties and look the same as traditional plastics, so it is easy to convert. Defining what speaks to your target consumer will help you determine which plastic packaging option to choose for your cannabis product.
Convey Your Message to Consumers
How do you want consumers to perceive your cannabis product, company, and values? What expectations will it meet? Take Coca-Cola for example. It's an instantly recognizable brand because of consistent use of the same style and color packaging, along with a universally-appealing message of refreshment, taste and satisfaction. Coca-Cola's messaging has remained consistent over decades and it fulfills the expectations of consumers – they know exactly what they're getting when they purchase it.
The message on your cannabis packaging should reflect your company values, fulfill customer expectations and of course, be eye-catching and promote the product inside. Packaging should also convey your brand information consistently and across all product lines. Consumers will become accustomed to your brand and will trust your products.
Make Your Product Stand Out
Once your brand message is defined, you can move forward with selecting the right plastic packaging. There are many crucial points to consider in the selection process. For example, if providing the freshest products to the consumer is critical, then select plastic bottles and closures that ensure your product does not become stale or contaminated. If protecting consumers is part of your brand message, then select bottles and closures that meet federal and state regulations for child safety, that are manufactured with FDA-approved materials, and that meet ASTM certifications.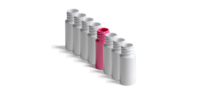 The product branding process can be intimidating. Overcome your fears by working with a plastic packaging manufacturer that fits your needs. Sometimes an off-the-shelf HDPE bottle or plastic closure just won't do. Unique bottle shapes, the use of colored resins, and switching to plastic packaging made with sustainable materials are options that will showcase your cannabis product and help increase visibility in the marketplace. Look for a plastic manufacturer with diverse capabilities and packaging ingenuity. A manufacturer that offers a diverse product line and also can develop customized bottles and closures to your exact specifications and appearance will be a great asset to you. They can guide you through the process to ensure that you get a product that will help differentiate your brand and make your product stand out.
Follow Through
Consistent and targeted branding based on thorough research is a proven approach to creating a strong brand. When your brand message is applied to all of your plastic packaging across your cannabis product lines, a stronger and more recognizable brand is created. Remember to follow through with your brand messaging across all other channels of communication such as: print advertising, signs at your business' location, on your website and through your online marketing efforts. Your sales and customer service staff should also reinforce your brand message when meeting with customers and prospects. A thoughtful and well-planned strategy for your brand will help increase sales and grow your new start-up or established cannabis business.