On Election Night in America, pundits on the news media were reporting on the blue wave of Democrats taking back control of the House of Representatives, a less-discussed green wave made its way through the ballots in a number of states. While not as big of a tidal force as we saw back in 2016, this election still brought a handful of states on the cannabis legalization train.
Measure 3 in North Dakota failed to get enough votes, but many seem to think this was somewhat expected, as the state is still working on implementing their medical framework years later and that this new measure was less than perfect.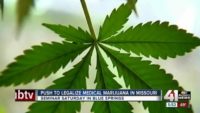 However, here comes the good news: Missouri voters passed Amendment 2, which legalizes, regulates and taxes medical cannabis. Very interestingly, this measure includes language allowing for caregivers to grow up to six plants. Check out Tom Angell's article on Forbes to learn more.
In Utah, Proposition 2 passed by a narrower margin than other states, but legislators in the state are already full steam ahead on legalizing medical cannabis. They planned to pass a bill with the same language in Prop 2 if it didn't get enough votes. Regardless, Utah will begin working on implementing a regulatory framework for legal medical cannabis, per the voters' request.
While the 2016 election saw a handful of states legalize recreational cannabis, only one state did so this time around: Michigan. Voters in Michigan passed Proposal 1, making it the ninth state in the country to legalize and regulate recreational cannabis. According to Matthew Schweich, deputy director of the Marijuana Policy Project, Michigan's legalization is a major milestone for the country. "The passage of Proposal 1 is a major milestone for marijuana policy reform in the U.S. Michigan will be the first state in the Midwest to end marijuana prohibition and replace it with a system in which marijuana is regulated for adult use," says Schweich. "Michigan is going to demonstrate that regulating marijuana works, and it will set a strong example for other states in the region and around the country."