On February 13 at the upcoming Seed To Sale Show in Boston, MA, Steven Hoffman, Chairman of the Cannabis Control Commission of Massachusetts, will deliver a keynote discussion. Hoffman will sit down with National Cannabis Industry Association (NCIA) Executive Director Aaron Smith to discuss the first few months of recreational legalization, challenges and the path forward for the state. We caught up with Hoffman to hear about some of the biggest obstacles and successes when it came to standing up a regulated adult-use cannabis market.
On November 8, 2016, voters in Massachusetts ushered in a new era for the East Coast, when they passed a ballot initiative to legalize adult-use cannabis. Almost immediately after that, the Massachusetts Legislature put a hold on implementation in order to study the issues and revise the legislation, which was ultimately signed in July of 2017. That September, Steven Hoffman and his colleagues at the Cannabis Control Commission were appointed to figure out how the state should regulate the market, enforce its regulations and roll out the new adult-use program.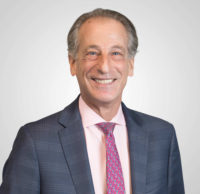 The Commission was tasked with creating something brand new, without a roadmap in place and developing rules around some very contentious issues. "I think the biggest obstacle was that we were doing something unprecedented," says Hoffman. "Every state is different demographically and the laws differ state to state, and we got a lot of help from other states sharing their experiences with us, but we were still going down an uncharted path for Massachusetts."
Hoffman told us the very first thing they needed to do in 2017 was conduct listening sessions in which the commissioners listened to citizens for recommendations and heard people's thoughts on cannabis legalization. "We did that immediately. We needed to conduct a process that was transparent, thoughtful and inclusive," says Hoffman. "We then, in public, debated policies around adult-use marijuana regarding licensing processes, criteria and enforcement."
They debated policies in a public forum for four days and came back the following week to embed their decisions in draft regulations that were submitted to the Secretary of State in December 2017. Then, they had 10 more public hearings, made some modifications to the rules, and promulgated a final version of the adult-use regulations in March 2018, keeping everything as transparent and inclusive as possible. "I don't think anyone has been critical of that process behind it," says Hoffman.
Certain pieces of the regulations stand out as particularly inclusive and progressive for Massachusetts' cannabis program. For example, certain mandates encourage diversity and support communities affected by the drug war. Hoffman says the Commission couldn't take credit for those completely because their objectives are explicit in the legislation, however, the agency still made sure the state followed through. "The mandate said the industry should look like the state of Massachusetts in terms of our diversity," says Hoffman. That includes creating a diverse industry with respect to ethnicity, gender, LGBTQ, veteran and disabled participation. Additionally, he added, "it was a very explicit set of requirements that those communities who were disproportionally harmed by the drug war are full participants in the new industry we set up. Those were both legislative mandates, so we take them very seriously and I wouldn't have taken this appointment if I didn't think it was absolutely essential."
You can expect to hear more from Hoffman on this and other matters related to implementing cannabis regulations at the upcoming Seed To Sale Show in Boston, MA, February 12-13, 2019. On November 20, 2018, the first adult-use dispensaries in the state opened their doors for business and began selling cannabis. Hoffman says he is most proud of their rollout of the program as well as the transparency and inclusiveness through which they conducted the process. "I think this is a very controversial issue; the voters approved this issue by 53-47%," says Hoffman. "No matter what we do, we won't make everyone happy, but we've done everything possible to allow people to participate and feel like they've been listened to. We made our decisions publicly and transparently."
Beyond that, the Commission wanted to take their time to make sure things were done the right way the first time. "From day one, we decided we were going to do this right rather than meet an arbitrary timeline," says Hoffman. "It's gradual, it's maybe slower than some people would like, but our rollout has been well-received and relatively smooth. I think a gradual and thoughtful process, not focused on a deadline, went very well. Hopefully we have given other states a model when they plan their own rollout."
Hoffman wouldn't comment on whether or not he would encourage other states down a similar path, but he did say they could probably learn a thing or two from them. "I expect other states will do what we did," says Hoffman. "They will talk to other states ahead of them like us and hopefully will benefit from learning from our experiences. I don't know what the laws will look like but I expect other states need to make it work for them specifically."
You can expect to hear more from Hoffman on this and other matters related to implementing cannabis regulations at the upcoming Seed To Sale Show in Boston, MA, February 12-13, 2019. Make sure to check out his keynote discussion with Aaron Smith on Wednesday, February 13 at 10:30am.