According to a press release published earlier this week, PathogenDx, Inc., is expanding their product portfolio and doing some rebranding. The DNA-based pathogen detection testing provider, headquartered in Scottsdale, Arizona, produces microarray testing platforms for the cannabis, agriculture and food and beverage industries. Their rapid testing technology can reportedly identify and detect 50+ pathogens all in a single test, including common pathogens such as E. Coli, Salmonella and Aspergillus.
Here is a look at their new product suite, taken from the press release:
DetectX – Tests for the presence of pathogenic microbial organisms down to a single organism, at less than 0.1 CFU/gram for state regulated compliance. Test 96 or more samples a day for multiple state mandated microbial pathogens, with product safety certainty delivered in 6 hours, far more rapid than current industry standards of 72 hours or more.

QuantX – The world's first quantification microarray test for Cannabis. This test measures the microbial load in a sample, while also providing discrimination of the organism content relative to testing standards. Regulatory agencies will now have the opportunity to improve microbial testing standards to ensure safety.

EnviroX – With a single swab, one can identify 50+ species and classes of microbes, with quick-turn results, by simply swabbing a grower/cultivation facility surfaces and vents. Submit, identify, and remediate. It's that simple to mitigate risk to high-value crops.

PhytoX – Coming in Summer of 2019, PathogenDx will introduce the ultra-rapid, easy plant pathogen test to detect powdery mildew, gray mold, mites and other microbial bugs that can become destructive threats to one's crop. Acquire results in 6 hours to intercept and redress infestation that can destroy one's yield.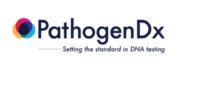 According to CEO and Co-Founder Milan Patel, they want their technology to set the standard for product safety testing. "We're making the accurate testing of cannabis, food and agriculture faster, more definitive and less expensive with trackable results benefitting growers, producers, regulators and consumers worldwide," says Patel. "Our new brand is inspired by our unique microplex array and is bright, fresh, memorable and expansive, enabling us to move from cannabis only to much larger global consumable markets where we can continue to offer new products and applications for the technology."
This announcement comes as the company is positioning itself to expand far beyond just the cannabis testing arena, diving into the food and beverage and agriculture industries with a much stronger presence. As recently as late February, the company announced purchases of new real estate, expanding their production capacity, as well as announcing a few key hires, expanding their leadership team.