Demand for cannabis extracts, in particular vaping products, is at an all-time high. People want good oil, and they want to know something about the quality of it. It is therefore time to take a step back and consider the process from plant to cartridge. What is the current industry standard for cannabis extraction, what constitutes quality and where might we need to make some adjustments?
Right now, "clear" oil is hot. Customers have been led to believe that a pale gold extract is synonymous with the best possible cannabis concentrate, which is not necessarily the case. Producing a 95% pure THC extract with a translucent appearance is neither a great scientific feat nor a good representation of the whole cannabis flower. Moreover, it runs counter to the current trend of all-natural, non-processed foods and wellness products.
"My carrots are organic and fresh from the farmers market, my drink has no artificial sweeteners and my honey is raw, but my cannabis oil has undergone a dozen steps to look clear and still contains butane."Cannabis is a fascinating plant. It is the basis of our livelihood, but more importantly, it enhances the quality of life for patients. The cannabis plant offers a plethora of medicinally interesting compounds. THC, CBD and terpenes are the most popular, but there are so many more. As of the most recent count, there are 146 known cannabinoids1. Cannabinoids are a group of structurally similar molecules2, including THC and CBD, many of which have shown biological activity3.
Then there are terpenes. These are the smaller molecules that give cannabis its distinct smell and flavor, over 200 of which have been identified in cannabis4. But wait, there's more. The cannabis plant also produces countless other metabolites: flavonoids, alkaloids, phenols and amides5. All these components mixed together give the often-cited entourage effect6,7.
Current industry standards for cannabis oil extraction and purification stand in marked contrast to the complexity of the plant's components. Due to an unsophisticated understanding of the extraction process and its underlying chemistry, cannabis oil manufacturers frequently produce oil of low quality with high levels of contamination. This necessitates further purifications and clean up steps that remove such contaminants unfortunately along with beneficial minor plant compounds. If one purifies an extract to a clear THC oil, one cannot also offer the full spectrum of cannabinoids, terpenes and other components. Additionally, claiming purities around 95% THC and being proud of it, makes any self-respecting organic chemist cringe8.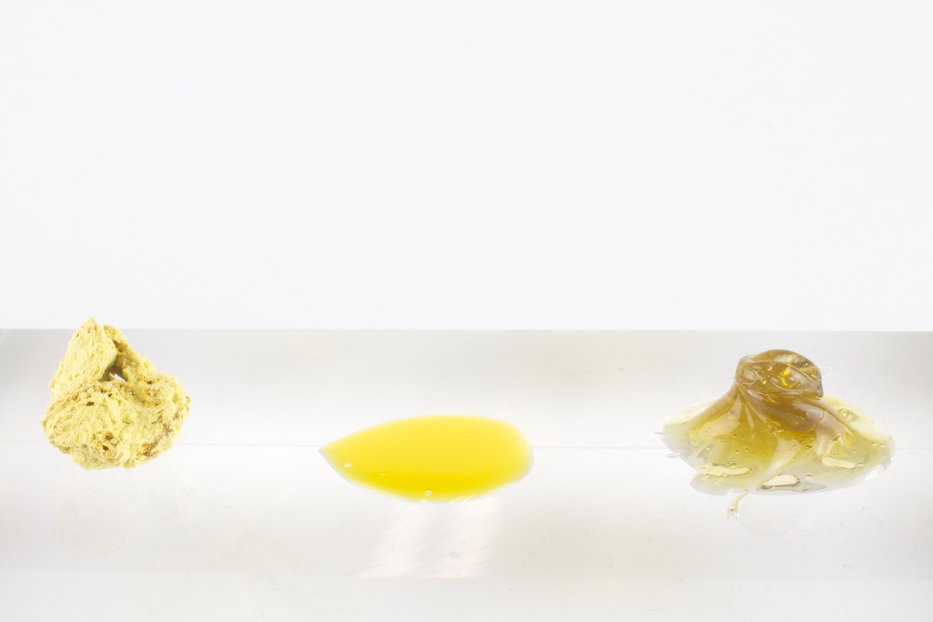 The labor-intensive, multi-step extraction process is also contrary to "the clean-label food trend", which "has gone fully mainstream"9. Exposing the cannabis flower and oil to at least half a dozen processing steps violates consumer's desire for clean medicine. Furthermore, the current practice of calling supercritical-CO2-extracted oils solvent-less violates basic scientific principles. Firstly, CO2 is used as a solvent, and secondly, if ethanol is used to winterize10, this would introduce another solvent to the cannabis oil.
We should reconsider our current extraction practices. We can offer cannabis extracts that are free of harmful solvents and pesticides, give a better, if not full, representation of the cannabis plant and meet the patients' desire for clean medicine. Realizing extracts as the growth-driver they are11 will make us use better, fresher starting materials12. Understanding the underlying science and learning about the extraction processes will allow us to fine-tune the process to the point that we target extract customized cannabis concentrates13. Those, in turn, will not require additional multi-step purification processes, that destroys the basis of the entourage effect.
The cannabis industry needs to invest and educate. Better extracts are the result of knowledgeable, skilled people using precise instruments. Backroom extraction with a PVC pipe and a lighter should be horror stories of the past. And only when the patient knows how their medicine is made can they make educated choices. Through knowledge, patients will understand why quality has its price.
In short, over-processing to make clear oil violates both the plant's complexity and consumers' desires. Let us strive for pure extracts, not clear. Our patients deserve it.
---
[1] Prof. Meiri; lecture at MedCann 2017
[2] ElSohly, Slade, Life Sciences 2005, 539
[3] Whiting, et. al., JAMA. 2015, 2456
[4] Andre, Hausman, Guerriero, Frontiers in Plant Science 2016, 19
[5] Hazekamp, et. al., Chemistry of Cannabis Chapter 3.24; 2010 Elsevier Ltd.
[6] Ben-Shabat, et al.; Eur J Pharmacol. 1998, 23
[7] Mechoulam, et al.; Nat Prod Rep. 1999, 131
[8] Medical and Research Grade chemicals are generally of purities exceeding 99.9%
[9] Bomgardner, Chemical & Engineering News 2017, 20
[10] Winterization is the industry term for what is correctly referred to as precipitation.
[11] Year-over changes to market shares in Colorado 2015 to 2016: Concentrates 15% to 23%; Flower 65% to 57%, BDS Analytics, Marijuana Market Executive Report, 2017
[12] Further reading about the whole extraction process: B. Grauerholz, M. Roggen; Terpene and Testing Magazine, July/Aug. 2017
[13] Further reading about optimizing CO2 extraction: M. Roggen; Terpene and Testing Magazine, May/June 2017, 35