As the legal landscape surrounding cannabis continues to evolve, the creation of robust, sensible and consistent safety regulations remains stalled. A patchwork of broadly inconsistent state rules and regulations, along with years of federal inaction and policy stagnation have the potential to create significant risks for consumers. Given the industry's explosive, multi-billion-dollar growth, consumers have access to an ever-increasing number of products produced by an increasing number of actors, pursuant to widely divergent standards and rules. Given this, the industry would be well-served to take on the responsibility of promulgating a coherent regulatory framework with robust (but sensible) safety regulations. The importance of collaboration among cannabis industry stakeholders cannot be overstated if we are to develop and adopt consistent standards that guarantee product safety at every step of the supply chain.
Joel Chappelle, along with several renowned experts, will lead the Seed to Sale Safety Workshop at the Cannabis Quality Conference this October 16 in New Jersey. Click here to learn more. Inconsistencies in safety standards and regulations open the door to a range of potential hazards, including contaminant risk, labeling accuracy, potency quantification and many others. Absent a clear understanding of seed-to-sale risks, many of which are not even mentioned in state regulations, cannabis companies face significant exposure, often without even knowing it.
To mitigate these risks, it is vitally important for the cannabis industry to collaborate in the ongoing development of safety standards. This means understanding and implementing safety measures starting with the cultivation process. Careful consideration should be given to factors such as the use of pesticides and herbicides, soil quality and irrigation methods. Standardized safety testing to ensure uniformity between products for potency, contaminants, heavy metals and microbial organisms is crucial to consumer safety. Accurate and comprehensive labeling is likewise necessary for consumers to be adequately informed.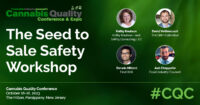 For as long as consistent state and federal guidelines governing cannabis safety remain elusive, the need for industry self-regulation will be paramount. Cannabis companies must work together to share best practices, establish standard operating procedures and adopt stringent safety measures. By promoting transparency and collaboration, stakeholders can build credibility and consumer trust while fostering a safer and more reputable industry.
As the industry continues to grow, it is incumbent upon all stakeholders to continue prioritizing consumer safety through, among other things, a focus on education and inter-industry collaboration, if we are to continue cultivating a trustworthy and sustainable cannabis market for the future. The path forward will require stakeholders to pursue continuous education, improvement, and collaboration in the development of a holistic safety framework capable of ensuring consumer safety.