Since medical cannabis was legalized in Ohio in 2016, companies that cultivate and process medical cannabis, as well as the plants themselves, have been popping up around the state.
Grow Ohio, a dual-licensed Level 1 cultivator and processor, was the first licensed processor in Ohio and the first to successfully bring product to market. From plant material to edibles, tinctures, oils, lotions and capsules, the company seeks to ensure that medical cannabis is cultivated and processed under the same strict standards as any pharmaceutical medication. As first to market, Grow Ohio found themselves navigating a complicated process by themselves.
As their first product was ready to be packaged, Executive Vice President (EVP) Justin Hunt and the team at Grow Ohio were focused on marketing, packaging and distributing their product. With the sheer number of items that required attention, it is easy to see how something like labelling can slip under the radar. With a variety of products and dosages, and the first delivery of the product slated for late April of 2019, Grow Ohio needed a consistent way to ensure their product complied with state law, and also satisfied their own brand standards.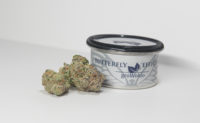 As their April product launch date grew closer, Grow Ohio realized they needed help with executing on Ohio's labeling requirements for medical cannabis products.
They turned to Adaptive Data Inc., a barcode and labeling systems supplier to provide labels, printers, and software. ADI's task was to specify the right label materials for their branding and compliance needs and provide software and equipment to print compliance labels on demand. ADI's proposed solution would slash the waste associated with printing and applying labels and create a lean process.
Compliance
Compliance labels must contain specific information and must be prominently visible and clearly legible. Containers have to be labeled with details including the specific quantity of product, dosage, THC levels, license #, testing lab name and ID #, and other details. Different sizes and shapes are required for the various packaging form factors.
Due to the large amount of content and a relatively small label area, ADI specified 300 dpi printer resolution so that 4 or 5 point fonts would be legible.
Hunt had all the information needed to comply with state regulations, but didn't have a way to get that information, properly formatted, onto a finished label at the point of packaging. "It's all about how you get the data from one source to the other in a way that is easily repeatable," says Hunt. The solution provides the capability to handle all compliance requirements, for all types of product and all sizes/shapes of labels. The system is designed to minimize key entry of data, a typical source of content errors. All of Grow Ohio's products contain THC and require the red THC compliance logo. Early on this requirement was met using a separate, hand-applied THC logo label, which was very costly. The labels now include the THC logo, all required compliance data, and the capability to include a 2d barcode.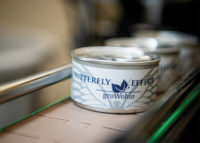 At the time the products are packaged all compliance information is printed on demand with label printers. As retail expansion continues, the barcode on the plant material compliance label can be used with the POS systems of the dispensaries, to keep their systems fast and accurate.
Until the system is ready to receive data automatically from METRC, the State approved inventory system which tracks all medical cannabis plants and products grown or produced in Ohio, they used user interfaces that reduce the amount of data that is key entered to an absolute minimum. Using drop down lists, date pickers and calculated results, means that Grow Ohio only enters data in 5-10 fields, depending on product line. As the system evolves the next step will be to take data for compliance details automatically from METRC.
Branding
As the first to enter the medical marijuana market, Grow Ohio leadership knew that their brand image is as important to their success as the quality of their products. Their logo, color choice, and inclusion of the THC logo had to be consistent in appearance across all products, regardless of production method.  They used full color branded product labels and blank labels that have the Grow Ohio and THC logo pre-printed. (Compliance data is added to the blank labels on demand.)
Label Application – Automatic, Semi-automatic and Manual
Grow Ohio packages in metal cans, glass bottles and in boxes. Each packaging type has specific requirements.
Metal Cans: Grow Ohio uses an automated packaging line for plant material in cans. That line includes two automatic apply-only machines (for brand labels). The compliance label is printed and dispensed and placed on the can as it is boxed.
Bottles: Cylindrical containers can be difficult to label. Grow Ohio originally packaged tinctures and oils in glass bottles which were pre-printed with their logo. The printed logo looked nice, but printing on the glass was expensive. This made placing the compliance label on the bottle more difficult, since the logo could not be covered. Positioning and straightness was critical for readability as well as aesthetics. Manual placement was time consuming (15 – 30 seconds per bottle).
Now, bottles are being processed with the help of a semi-automatic print-apply machine. The print-apply machine can label 18-20 bottles per minute.
By using plain bottles and pre-printing the blue Grow Ohio logo and red THC logo on the label, they were able to streamline the process. The semi-automatic print-apply machine adds the compliance data to the label and applies the label to the bottle.
The result is a lower total cost of the product. Plain bottles cost less without the logo and the labor to manually apply the labels has been greatly reduced. In addition, with the logos on the label instead of the bottle, orientation and spacing are no longer an issue. The label maintains the natural brand feel, which was important to Hunt.
Boxes: Only compliance labels are required for boxes as the branding information is pre-printed on the box. Compliance labels for boxes include a pre-printed, red THC logo. The printer prints the compliance data and presents the label with the liner removed, ready to be manually applied to the box.
Summary
With a broad product line, Grow Ohio's label requirements are quite diverse. By specifying and sourcing the right hardware, software and label materials,
Adaptative Data provided an efficient, repeatable, cost-effective way to do brand and compliance labeling for Grow Ohio's diverse product offering.  
Hunt now understands the magnitude of work that goes into coming up with a compliant, cost-friendly compliance labeling approach – an appreciation he did not have at the outset. He is not alone in this regard as many companies come to this understanding late in the start-up process.
Hunt isn't sure how fast the market will grow, but he is not worried. As the market expands and demand grows, he knows his systems can handle it.