Last week, Steep Hill announced their expansion into Illinois with a new cannabis testing lab partner licensed in Ottawa, IL. Illinois became the eleventh state to legalize adult use cannabis back in 2019. It's also the eleventh market that Steep Hill has opened a laboratory in.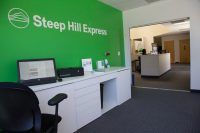 Co-founders Nick Etten, John Tinsley and Matt Grabowski will lead the new Steep Hill venture. Etten will lead the team as SVP of external affairs, who comes from Acreage holdings and the Veterans Cannabis Project. Tinsley comes from a consulting background at EY-Parthenon and Grabowski comes from a background in finance.
According to the press release, the new Steep Hill location in Ottawa is "within a 90-minute drive of the largest MSOs in Illinois." The lab will provide full regulatory compliance testing panels in addition to R&D testing, according to Tinsley. "We are currently building out the lab," says Tinsley. "We will also provide research and development testing services for cultivators and processors; supporting our partners in the development of new products and supporting their growth."
Steep Hill is often touted as the first cannabis testing lab in the United States, with its headquarters in Berkeley, California. The company has been testing cannabis for thirteen years now.