As the legalization of cannabis in the U.S. continues to grow, stringent regulatory requirements around the country are being adopted to ensure that only safe and high-quality cannabis is sold. The U.S. cannabis testing market is estimated to see tremendous growth over the coming years. Further, the FDA has made several resources available for addressing cannabis products like CBD to ensure that consumers and stakeholders are getting safe products.
According to Global Market Insights, Inc., U.S. Cannabis testing market size is projected to surpass USD 4.1 billion at a CAGR of 10.4% through 2027, in light of below mentioned trends:
Strategic initiatives by major industry players
Prominent players operating in the U.S. cannabis testing market such as CannaSafe, Anresco, Collective Wellness of California, EVIO Inc., Digipath Inc., PSI Labs, SC Labs, Inc., Steep Hill, Inc. etc. are focusing on developing enhanced cannabis testing solutions and accreditation for gaining strong market presence. For example, earlier this year SC Labs developed a comprehensive hemp testing panel that is purported to meet testing standards in every state with a hemp program.
Citing another instance, in 2019, a leading cannabis resource Leafly, introduced the Leafly Certified Labs Program, under which a network of labs is independently assessed by Leafly for quality and accuracy. This program has been designed to address inconsistency in cannabis testing by ensuring that lab data comes from labs that have been confirmed to provide accurate results.
Rising adoption of high-pressure liquid chromatography (HPLC) technique
A lot of cannabis testing procedures are carried out using liquid chromatography. It is estimated to witness higher preference over the coming years. In 2020, the liquid chromatography segment recorded a valuation of USD 662.4 million. Further, liquid chromatography is a valuable alternative to gas chromatography when it comes to analysis of cannabinoids, pesticides and THC which is why this technology is often preferred for potency testing as it offers more precise analysis. Moreover, purification standards are highly controlled in liquid chromatography which helps in obtaining accurate results, which is complementing the segment growth.
Growing popularity of heavy metals testing for cannabis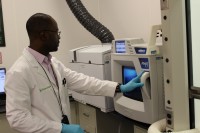 Heavy metals are known to be one of the major contaminants found in cannabis and its products apart from residual solvents, microbial organisms and pesticides. In addition, heavy metals are highly toxic in nature and on exposure can lead to poisoning and other complications. As a result, heavy metal testing for cannabis and its products is increasingly becoming popular. Several government organizations have made heavy metal testing mandatory for cannabis products. Moreover, increasing legalization of cannabis across several countries for adult use and medical purposes is likely to instigate the demand for heavy metal testing of cannabis products, thereby fostering the growth of heavy metals testing segment over the coming years. For the record, in 2020, the segment had recorded a market revenue of USD 352.5 million.
Increasing support from government bodies in the Mountain West
With increasing legalization for medical and adult use, the cannabis testing market in the Mountain West zone of the U.S. is likely to observe a tremendous growth over time. Moreover, growing support from various government bodies is playing a key role in enhancing the business space. For example, Montana's Department of Revenue helps labs get licensed along with the state's environmental laboratory that oversees inspections and licensing. Further, presence of a large number of cultivators of cannabis and manufacturers of cannabis-based products are also positively influencing the regional market growth. Considering the significance of these growth factors, the U.S. cannabis testing market in the Mountain West is estimated to register a substantial CAGR of 9.6% through 2027.