EDGARTOWN, MA, March 11, 2020 – Innovative Publishing Co., the publisher of Cannabis Industry Journal and organizer of the Cannabis Quality Conference & Expo is announcing the agenda release for the Cannabis Labs Conference. The event will address science, technology, regulatory compliance and quality management as they relate to the cannabis testing market. It will take place on June 3–4 at U.S. Pharmacopeia in Rockville, MD.
Two keynotes for the Cannabis Labs Conference are listed in the agenda: Rowing in the Same Direction: The Biggest Safety Issues Facing the Cannabis Industry & How We Intend to Tackle Them – this talk will be delivered by Andrew Kline, Director of Public Policy at the National Cannabis Industry Association (NCIA). The second keynote is titled Cannabis Testing in Maryland: Protecting Patient Safety – this talk will be delivered by Lori Dodson, Deputy Director of the Maryland Medical Cannabis Control Commission.
The event will begin on June 3 with an opening general session with Charles Deibel speaking to both the cannabis and food lab testing industries: The Evolution of the Lab Testing Market: A History of Food and Cannabis Testing & How Far We've Come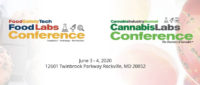 Other notable presentations include: Building a Comprehensive Analytical Testing Program for Hemp by Grace Bandong, Global Scientific Strategy Leader at Eurofins; FDA Compliance for Cannabis- Stories from a Cannabis Public Health Investigator by Kim Stuck, Founder of Allay Consulting; Evaluation of Cannabinoids Reference Standards by Shiow-Jyi Wey, Reference Standard Scientist at the US Pharmacopeia; and more.
The event is co-located with the Food Labs Conference, which will focus on regulatory, compliance and risk management issues that companies face in the area of testing and food laboratory management. More information about this event is available on Food Safety Tech. Some of the critical topics include a discussion of FDA's proposed FSMA rule, Laboratory Accreditation Program for Food Testing; considerations in laboratory design; pathogen testing and detection; food fraud; advances in testing and lab technology; allergen testing, control and management; validation and proficiency testing; and much more.
"By presenting two industry conferences under one roof, we can provide attendees with technology, regulatory compliance and best practices that cannabis and food might share but also focused topics that are unique to cannabis or food laboratory industry needs," said Rick Biros, president of Innovative Publishing Co., Inc. and director of the Cannabis Labs Conference.
To learn more about the agenda, speakers and registration pricing, click here. The early bird discount of $395 expires on March 31.
Innovative Publishing Company, Inc., the organizer of the conference, is fully taking into considerations the travel concerns related to the coronavirus. Should any disruption occur that may prevent the production of this live event at its physical location in Rockville, MD due to COVID-19, all sessions will be converted to a virtual conference on the already planned dates. More information is available on the event website.