In a press release published last week, Cannabis Testing Laboratories (CTL) announced they have achieved ISO 17025 accreditation as part of the Nebraska Department of Agriculture requirements for cannabis labs operating in the state. CTL is a wholly-owned subsidiary of Doane University, a liberal arts college in Crete, Nebraska.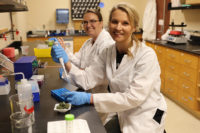 According to the press release, CTL will be renting space on Doane University's campus for its primary laboratory. Doane University is working on an effort to foster innovation where they create spaces on campus for entrepreneurial startups. Dr. Andrea Holmes, Director of Cannabis Studies and Professor of Chemistry at Doane University, is the founder of CTL.  Dr. Arin Sutlief is the director of the laboratory as well, which means CTL is led by an all-female management team.
Dr. Holmes says hemp testing should be a priority for the state's new industry. "Being the first ISO-accredited and state approved cannabis testing laboratory in Nebraska will allow farmers, processors, vendors, and even consumers of CBD and hemp products to have local access to high-quality and reliable testing," says Dr. Holmes. "For farmers, continuous testing is of utmost importance so they don't grow hemp over 0.3% total THC levels, at which point hemp is categorized as marijuana, which is currently illegal in Nebraska. Consumers of CBD products will also benefit from private testing as oftentimes CBD-infused products don't actually contain what the label says."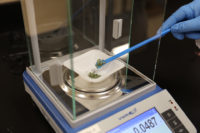 CTL will operate independently of the university, but the lab will be a resource for faculty and students. There will be internship and experiential learning opportunities available at the lab for students. In addition to that, the lab will also help faculty that teach cannabis-related courses.
Last year, Doane University announced the launch of their Professional Cannabis Certificate Program. In June of this year, the university expanded their course offerings in cannabis, with seven courses available this fall. The addition of CTL to the Crete, Nebraska campus will benefit those new courses and provide more resources to those in the certificate program.
"I am proud to be one of the creators of a fully accredited cannabis testing lab that provides our farmers and processors reliable and quick local testing of hemp," says Dr. Sutlief. "CTL is among the first ISO-certified cannabis testing labs in the U.S. that is a subsidiary of a university. Innovation, research, entrepreneurship and education will be the central pillars of CTL as we set ourselves apart to become leaders in cannabis testing not only in Nebraska and the Midwest but also nationally."