There are numerous plastic bottle and closure manufacturers in the cannabis industry today. And, there is a significant quantity of common bottle and closure styles as well. Many companies manufacture the same or similar products as their competition. But what if you're searching for something different? Something unique that no one else has? A plastic bottle that will make your cannabis product stand out from your competition. Where can you find that package that is truly "something special?" Something that will elevate your brand?
It doesn't matter if your cannabis business is a start-up in its infancy or a mature company with an established loyal customer following, creating attention-grabbing packaging is essential to your success. The packaging is the all-important and critical first impression. While the primary function of any packaging is to contain, protect and market your cannabis products, your packaging is a reflection of your company in the eyes of the consumer. In many ways, the package is the product. Using creative plastic packaging is a great way to differentiate your cannabis products from those of your competitors.
Finding the right manufacturing partner is the first step. Look for a company that has custom design capabilities and understands your vision for the perfect cannabis packaging.
When is Custom Bottle Design the Right Choice?
Sometimes, an off-the-shelf stock bottle and closure will work just fine. But if you are introducing a brand-new product that is unique to the industry, or if you are using a new product to introduce the fresh new look of your brand, it makes sense to develop plastic packaging that is distinct and eye-catching. You want your brand and products to look special and stand out on the shelf. There could also be filling equipment, regulatory, labelling, light sensitivity or other packaging requirements you must address as well.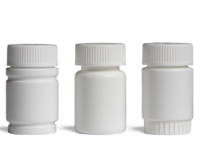 Start every custom cannabis bottle project with a trusted manufacturer who thoroughly understands how you want the plastic packaging to look and the specifications it must meet. Ensuring that these qualitative and quantitative details are discussed will lead to on-time, on-budget and on-target custom cannabis packaging solution.
Achieving the Look You Want
Depending on your requirements, there could be several solutions to achieving the special look and specifications of your custom packaging. Discuss all of the design options that meet the needs of your product with your manufacturing partner; they should help you decide on the best direction for your packaging.
Selecting the right materials for your custom plastic bottle and closure is a big part of the process. Select materials that will provide the necessary aesthetics, chemical resistance, light transmission, bottle capacity and weight requirement that will protect your product.
Your manufacturer should also be able to guide you through the production process: should the bottle be blow molded or injection molded? Should it be made on IBM (Injection Blow Molding) equipment or EBM (Extruded Blow Molding) equipment? Answering these questions will ensure that the plastic bottle will be made efficiently and to the correct specifications.
Flawless Closure Integration for Your Cannabis Packaging
Designing the bottle is important, but you must also consider what type of closure will work best. Both items must be engineered to work seamlessly with each other. If the closure doesn't work properly with the bottle, it can compromise the product it contains. Closures must always seal perfectly to ensure the integrity of the product inside. They must also be designed to function efficiently and meet the requirements of your filling operation.
A detailed CAD drawing should be provided, outlining every critical dimension of your HDPE or PET bottle and plastic closure. The CAD drawing provides the direction needed to create the manufacturing mold for your custom design. It also serves as a reference check to ensure that the product is produced according to your specs.
Ensure Quality through the Manufacturing Process
Ensure that your packaging partner has quality checks in place throughout the manufacturing process. Error detection systems, random sampling and testing will safeguard 100% conformity. It's also important that manufacturers adhere to cGMP best practices and certifications under a globally recognized accredited program. This represents their commitment to continuously improving manufacturing processes and quality systems. It also helps minimize waste and manufacturing errors while increasing productivity. Risk of product contamination and other errors will be alleviated, and product efficacy and shelf life expectancy will be met.
Responsive Customer Service and Support
Many packaging manufacturers claim to provide exceptional customer service, but few actually rise up to that level. This is an important aspect of your project and you need to know that your questions will be answered and that your producer will keep you informed of any changes. Knowing that you can trust your supplier allows you to concentrate on other aspects of your business, like growth and profitability.
Reinforce Your Brand with Customized Packaging
In today's competitive cannabis market, it's more important than ever to have your product stand out from the competition. Your brand should help build awareness and develop consumer loyalty. When you deliver a consistently reinforced message, consumers will instantly recognize your brand. This consistency is a key factor in encouraging consumers to purchase your product over the competition — even when they want to try something new. Consistency makes your brand feel more dependable and people gravitate towards things they trust.
Your brand consists of more than just your logo and company name. Your brand identifies who you are, what your company stands for and the integrity of your product. Customized cannabis packaging will reinforce your brand and attract consumers to your products. Take time to find the right cannabis packaging partner who can help differentiate your brand and products from your competitors with special, eye-catching plastic packaging.